Years ago, I made a New Year's resolution that I couldn't get into bed unless I had washed my face; I had been spending far too many nights asleep in my glitter eyeliner, and it's been one of the best commitments I've ever made. I've yet to find a makeup wipe that doesn't make my face sting, so I'm a fan of the double cleansing method, particularly at night. I go in once with an oil or balm cleanser to take my makeup off, and a second time with a more hydrating, gentle gel cleanser to actually wash my face. I like a balm when I'm traveling because there's less chance of spillage, but at home, I'm all about an oil cleanser. I've been using the same luxury product for years, and it's the only part of my routine I haven't been willing to experiment with, until I tried this Fig.1 Beauty Micellar Oil Cleanser ($19).
What I Like About the Fig.1 Beauty Micellar Oil Cleanser
There's a lot to love about this cleanser. As someone who's gotten mascara on plenty of towels, I love that this cleanser does a thorough job of getting all my makeup off without stripping my face or making me feel too dry. Plus, it's really unique in that it has the power of an oil cleanser, but washes off like micellar water. Most oil cleansers are thorough, but tend to leave a film on your face. Not this product. The cleanser has been formulated so that the micelles are only activated when they interact with water, which helps remove dirt, debris, and makeup while still keeping the skin hydrated. Plus, I really love the price. At just $19, it's an affordable addition to my skin care routine, and one I'll be using for a while. You can see how well it removes makeup, like my stubborn eyeliner, in the video below.
What's Worth Noting About the Fig.1 Beauty Micellar Oil Cleanser
The one thing I'd note about this Fig.1 Beauty Micellar Oil Cleanser ($19) is the smell. Fig.1 Beauty products have no added fragrance, so any scent comes from the scent of the ingredients, which is nice if you have skin sensitivity to fragrance. It's an oil cleanser, and it smells like, well, oil. It's not overpowering, you don't feel like you're putting grease on your face or something, but it is worth noting.
Who the Fig.1 Beauty Micellar Oil Cleanser Is Best For
This cleanser is suitable for all skin types, including those of us with sensitive skin. If you're looking to start double cleansing, or want something gentle yet effective to take off your makeup, I'd recommend this product. Plus, if you're on a budget, this is a high quality item with a price tag we love.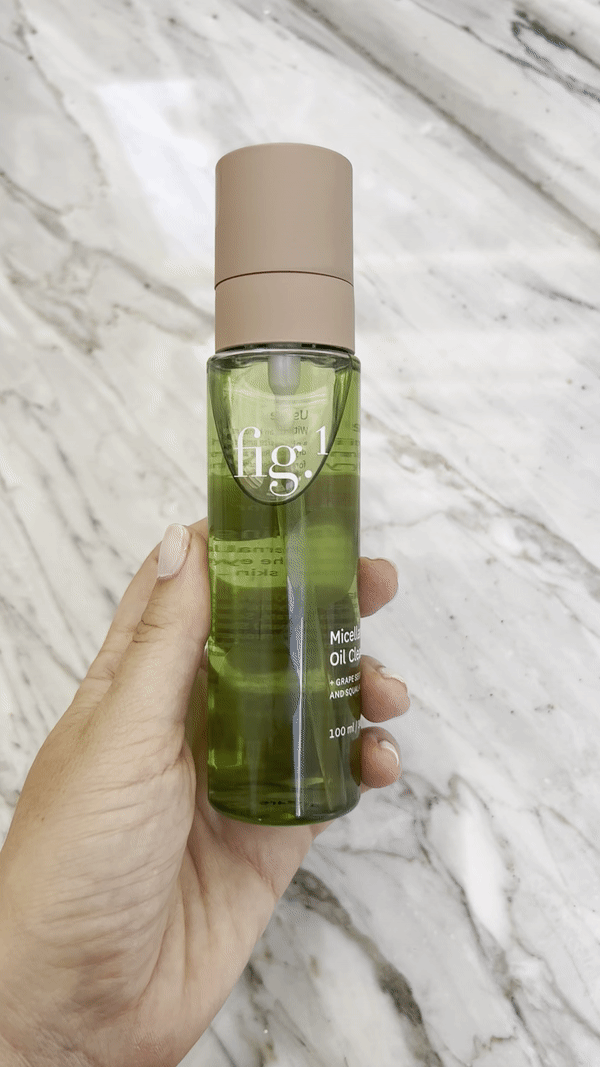 Additional Details
This product is 100 ml, or 3.4 fl oz., and the packaging itself is pretty compact, so you could definitely take this in your carry-on bag while traveling. It also has refillable packaging, so you can save $5 and just buy the refill instead of having to buy a whole new product. Plus, it helps waste less plastic.
Where the Fig.1 Beauty Micellar Oil Cleanser Is Available
You can find this product on the brand's website or at Walmart.
Rating:

Image Source: POPSUGAR Photography / India Yaffe