I'm all about good hair health. I recently switched out my slicked-back hairstyle for the popular TikTok "treatment bun" to repair damage, and I've also tried many different heatless curling hacks to minimize it in the first place. However, the sheer amount of gray that pops up at my roots regularly (which requires constant coloring), and the fact that my air-dried hair never looks great, means that I still spend quite a few hours damaging my hair when all I really want to do is keep it safe and happy. (Hair, if you're listening — I love you, please love me back.)
When I learned that Eric Pressly, the inventor and chemist behind Olaplex, was launching a new hair-care brand called Epres, I had a feeling it would do wonders on the overall health of my hair. And I was right.
The Epres Bond Repair Treatment ($48) is a one-step, acid-free, patent-pending formula that promises to repair hair that's been damaged from color or heat. Because it's acid free, it won't alter the pH of your hair, and it's waterless, which the brand says makes it more sustainable. So far, all of my boxes were checked — but would it actually work? I couldn't wait to find out.
My hair is naturally dry and frizzy, and as I mentioned, it's sustained a lot of damage from being colored, blow-dried, curled, and flat-ironed regularly. When I took my before photos for this story, I noticed how dull and lifeless it looked, and I was hoping that the Epres Bond Repair Treatment would bring back some of its shine and bounce.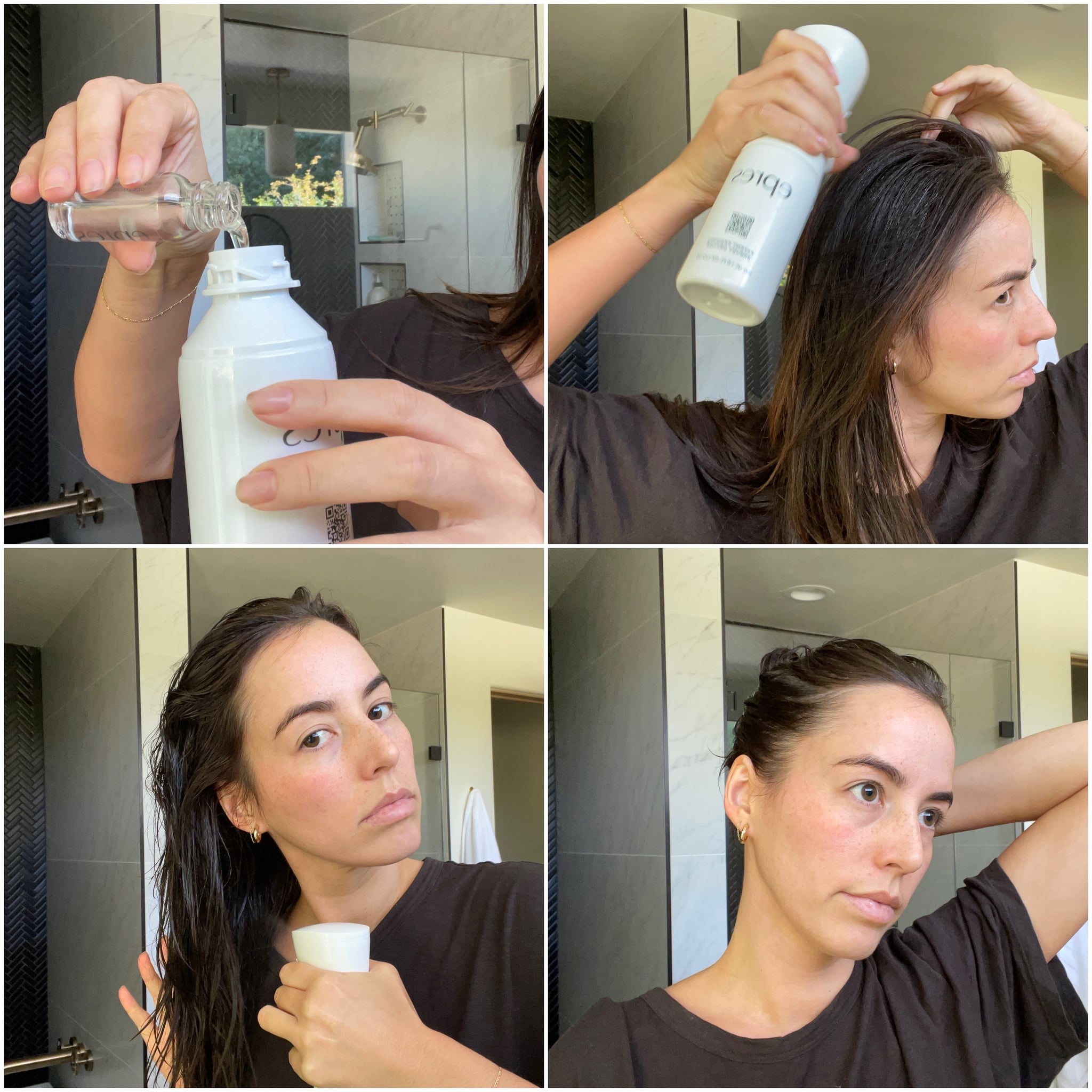 The Epres Starter Kit comes with one 150-milliliter spray bottle and two 15-milliliter vials of bond-repair concentrate. To test it, I started out by taking one of the vials and pouring it into the spray bottle. From there, I filled the spray bottle with water and shook up the contents. Next, I misted my head until my dry hair was fully saturated, which used up about half of the bottle. The directions stated to leave it on for 10 minutes or more, so I opted to put it up in a claw clip as I worked on my computer and left it on for 25 minutes. As I wore it, I noticed that it was lightweight and didn't weigh my hair down like other bond treatments I'd tried in the past. When the time was up, I hopped in the shower and shampooed and conditioned my hair as normal.
The first thing I noticed as I was drying my hair was how shiny it looked and how soft it felt. When I was finished styling, I immediately noticed that there was a noticeable improvement from the before to the after that I couldn't deny. I decided then and there that I was going to continue using it regularly, and since the first time, my hair has continued to look better and better.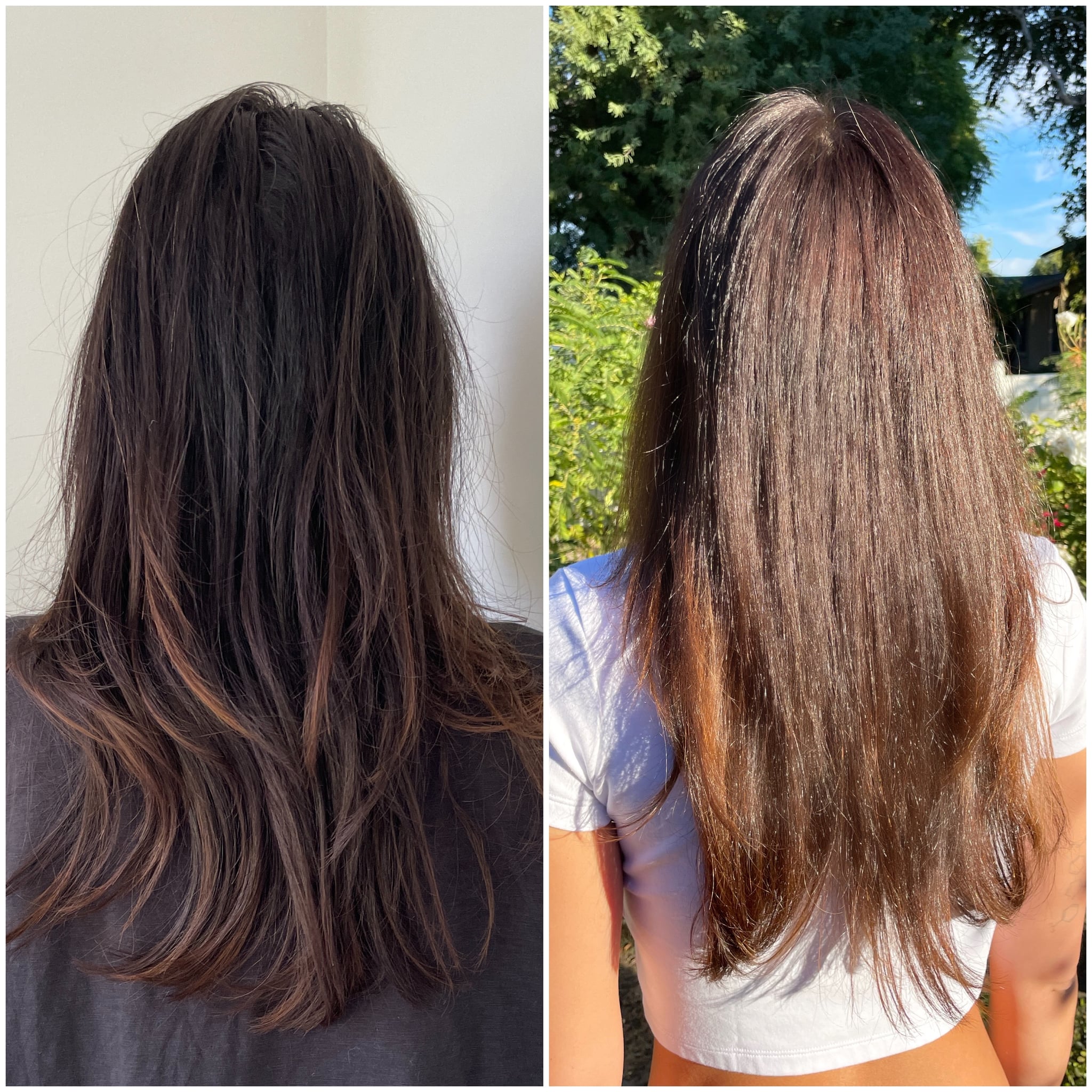 A quick list of pros surrounding my overall experience: the Epres Bond Repair Treatment was easy to apply, and I loved that I didn't have to get my hands dirty when saturating my hair. It was also lightweight, and I didn't even notice when I was wearing it throughout the day. It made my hair look shiny, and it gave it more bounce and life. As for the cons, I genuinely can't think of a single one.
Since adding this product to my hair-care routine, I now use it once a week and sleep in it overnight. I think it's changed my hair for the better, and I can't wait to see what results continued use yields.
Rating:
Image Source: POPSUGAR Photography / Renee Rodriguez