The new Fendi boutique at Ngee Ann City pays homage to the grandeur of Roman architecture with a Gen Z twist.
In November last year, Fendi announced the reopening of its flagship boutique on Orchard Road. With an extended area of over 3,200sqft, the spacious new retail space is home to the Italian maison's women's universe that includes ready-to-wear, leather goods and accessories.
The former boutique's clean lines and Bauhaus-inspired façade was in its time a brilliant consideration for all things sleek and contemporary – a component integral to conceptualising an inviting and, not to mention, pleasant shopping experience. But the current refurbishment on the other hand is on a whole other level. An eye to behold, this store is both lifestyle and retail-integrated.
For starters, the stunning three- dimensional, wall relief-esque exterior references ancient Roman architecture but interpreted with a contemporary and more youthful execution. Far from anything stuffy, or, dare anyone say it, over-classical, the new design infuses beloved Roman elements in the likes of arches and marble with metal work, highlighted in a subtle champagne-tone finish. The overall effect speaks volumes on keeping up with a fresh ambience, if not, expressing a time-honoured and neo-classical mood.
The Art Deco fluidity of the facade arches are not the only feminine touches of the spanking new boutique. Keep in mind, it is after all a women's flagship and carrying through the feminine appeal – for the interior decor – would simply be a prerequisite. Case in point: Poufy armchairs with a curvaceous design that are used to anchor open floor spaces, as well as to create a home-within-a- store ease. In addition, the soothing pairings of light grey concrete and white marble flooring, which not only channel elegance but acknowledge Fendi's codes on dualism.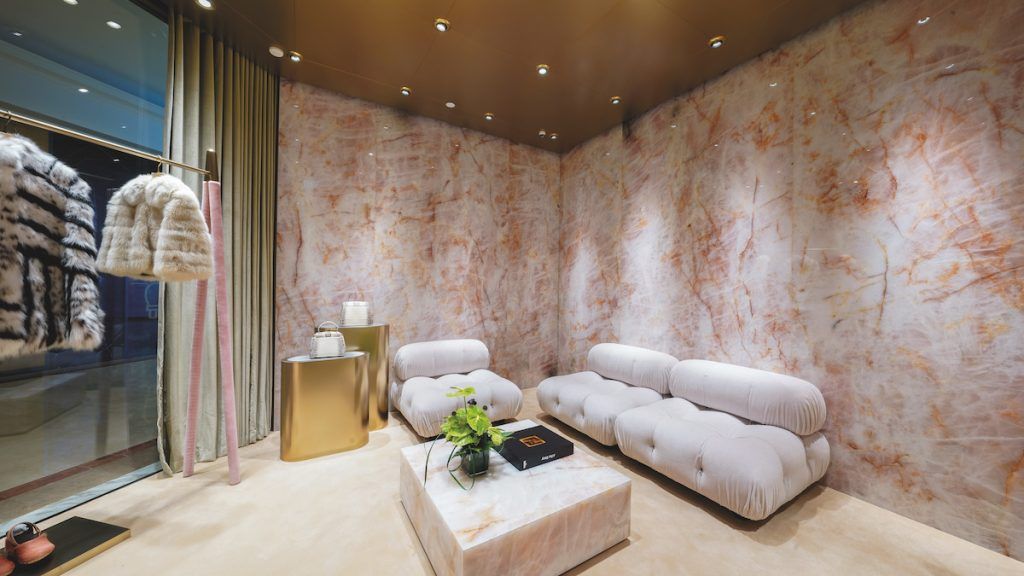 As with the façade, the interior, too, has been enhanced with brassware details for its shelves and sideboard-style showcases. The aesthetics of diagonally-cut lines extending from the Arabescato marble flooring to matching wall panels cleverly extend the eye. Special mention is to be made of the two special glass walls in the boutique, which are incorporated to mimic the movement of water, reminiscent of Roman fountains and a nod to Italian heritage.
The crème de la crème, however, is the VIP room – a first in Fendi boutiques in Singapore. Partially encased in pink crystal marble, the room is adorned with a champagne metal ceiling and lush carpeting in soft beige. Accompanied with powder-pink furniture, the winsome appeal of this luxury space couples modernity with femininity.