One of my favorite things about the social media beauty scene is the amount of creativity bursting from the space. From over-the-top contour hacks to practical tips that can actually be helpful in daily life, there is plenty to learn. The latest TikTok hack to teach me something new? The mascara and lip gloss trend.
Created by makeup artist Maryna Molchanova, the hack involves taking a coated mascara wand and dipping it into clear lip gloss for a black lip color that is perfect to finish off your favorite lip combination or to wear on its own. Of course, I had to try it.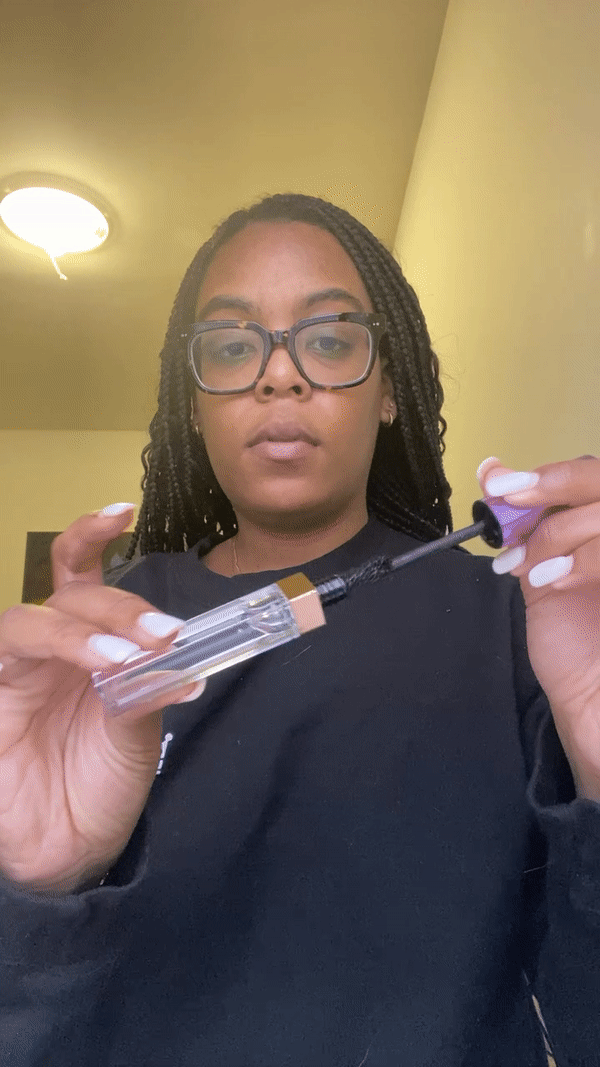 My products of choice were the E.l.f. Big Mood Mega Volume & Lifting Mascara ($8) and the NARS Afterglow Lip Shine Gloss ($26). The process is pretty straightforward — just take the mascara wand from the tube and dip it into the gloss until it turns fully black. Following Molchanova's lead, I did just that. After sufficiently mixing the two, I put the lip gloss on.
Before I mention the outcome, I will say two things: the addition of the mascara made the lip gloss a bit more viscous than I was expecting, and it did take a few minutes for the mascara to fully mix in with the lip gloss. The wand wasn't reaching the bottom (and therefore it wasn't being properly coated in the most opaque shade of the color).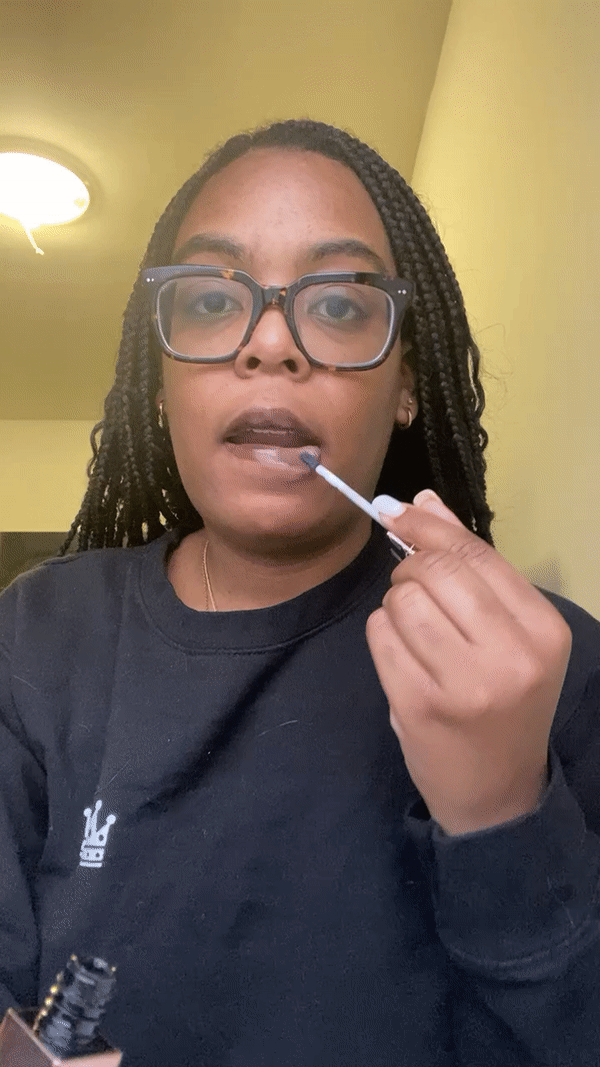 Once it had settled and was applied, I was left with a really gorgeous, dark, vampy lip that I honestly didn't expect to love as much as I did. The color was bold on first application but once fully blended, it gave this beautiful grungy tint to my lips. It immediately reminded me of the "indie sleaze" beauty trend that is slowly making its way back into mainstream pop culture. I immediately wanted to add it to my eyes as well for an editorial oil-slick moment. I've been playing with the color a bit more since my initial application, and it's given a red lip that I was wearing a delicious depth that looked really seductive and alluring. It also turned a nude combination that I often sport into a greige color that made me want to get started on my Halloween costume right now.
Aside from how unexpectedly good the lip gloss looked, this hack reiterated just how much fun makeup can be when you think a bit outside the box. While I definitely recommend opting for an actual black gloss like the Danessa Myricks Colorfix Glaze ($18) in Oilslick or the Isamaya Beauty Liplacq Maximizing Lip Serum ($38), this technique utilizes products that you probably already have at home. That's all to say, if you want to give it a try for yourself, it's a pretty low stakes way to tap into your more creative side. In all, I absolutely will be making black gloss a part of my makeup routine whenever possible. Who knows, maybe more unusual colors will start to make an appearance in my kit, too — it feels like the world is my makeup oyster.
Image Source: POPSUGAR Photography / Ariel Baker