When I was a baby beauty editor — a plump-faced 22 year-old in my first role at a print magazine — another editor asked me why I used eye cream. "It's not like you need it yet," she said sardonically. And she was right, my undereyes were still unaffected by motherhood and aging, but even as a beauty-industry newbie, I knew the best skin-care routine was a preventative one.
Fast forward to today, I'm a 34 year-old mom-of-two who runs on sporadic sips of cold coffee and who still tries to pass her gray streaks of hair off as "blond highlights." No one is denying that I need eye cream now. The problem is, in all those years I haven't found one that I liked enough to commit to. Sure, I'll casually use one sometimes, but nothing that I've fallen in love with and, say, want to introduce to my mother.
I like a quick routine (no matter how many times I see Alix Earle "bake" her undereye, I don't have it in me), so I usually just do eye cream, a dab of concealer, bronzer, blush, and mascara and go. Then in a few hours there will be a nice smear of mascara making itself at home under my eyes. For me, a good eye cream is one that leaves my skin instantly brighter, but without the oily or tacky residue. That's where the Dr. Naomi Catfish Blurring Eye Cream ($85) comes in.
This 2023 POPSUGAR Beauty Awards winner is made up of dermatologist Naomi McCullum, MD's proprietary brightening blend and helps do it all. Keep reading to learn more about the formula itself and my unfiltered review and to see my before-and-after photos.
About the Dr. Naomi Catfish Blurring Eye Cream
This product was formulated by cosmetic physician Naomi McCullum.
It contains hyaluronic acid "filling spheres" to instantly blur your crow's feet and hydrate the delicate undereye skin.
It's formulated with niacinamide, tiger grass extract, green tea, and aloe to target dark circles and puffiness.
What I Like About the Dr. Naomi Catfish Blurring Eye Cream
What I really like about the product is that it acts like a makeup/skin-care hybrid, effectively eliminating that second "concealer" step from my morning routine. (Seriously, one swipe and it subtly blurs fine lines and makes my dark circles infinitely less noticeable.) I also appreciate that the lightweight formula absorbs fast and doesn't require any rubbing, tugging, or drying and that it doesn't make my mascara bleed onto my skin.
How to Use the Dr. Naomi Catfish Blurring Eye Cream
Besides the instant blurring results, the best part about this product is how easy it is to use. I just use the pen-like applicator to apply a pea-size portion onto my ring finger. I then dab the product under my eye and just under my brow bone. Instantly, I notice my eyes look brighter and more awake. I then apply moisturizer/SPF and move right into bronzer and blush.
The brand recommends you use it morning and night, but since I use it mostly for its immediate cosmetic results, I prioritize it in my morning routine.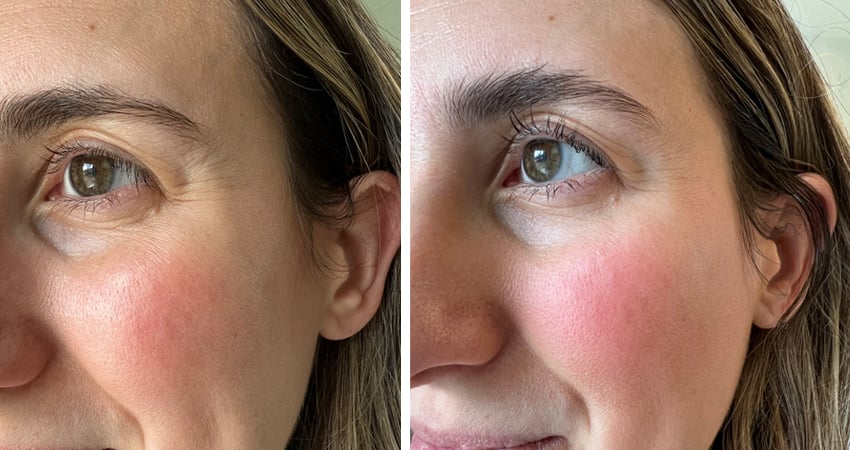 What to Consider With the Dr. Naomi Catfish Blurring Eye Cream
The truth is that no product is a miracle cure. Do I still have crow's feet? Yes. Do I still have crinkles under my eyes when I smile? You betcha. But I wasn't expecting this eye cream to act like Botox, and I used the product with realistic expectations. That said, I really do think it gives my eyes a "more awake" look that I haven't been able to find in a skin-care product until now.
Is the Dr. Naomi Catfish Blurring Eye Cream Worth the Splurge?
At the end of the day, the question is: would I bring one home for my mother? The answer is, absolutely. This is the perfect gateway eye cream for people of all ages. It covers all the major concerns, has quick results, and is easy to use. For $85, which might seem high, it's still on the more affordable side of the eye-cream market and does so much. In fact, it would be handy to keep at the bottom of your bag along with that extra tube of your favorite lip balm when you just need a quick pick-me-up on the go.
Rating:

Image Source: Amanda Elser Murray