On the afternoon before the 2023 CMT Music Awards, Gwen Stefani walked into the Four Seasons hotel room for our interview with swagger. Fresh off the plane wearing her signature red lip, she bounced her way into my line of vision while singing "Walk Away Renée," the 1966 song by The Left Banke that inspired her middle name. It was a perfect snapshot to all that she is: global superstar who needs no introduction, singer, songwriter, fashion designer, and most recently, the founder of GXVE Beauty, a vegan makeup brand she launched last year.
We're in Austin, TX, for the April 2 award show, where Stefani will be performing the classic No Doubt hit "Just a Girl" with country singer Carly Pearce. She realizes the peculiarity. "This was a very unusual ask for me," Stefani tells POPSUGAR. "To be asked to perform my first single I ever had, on a country music award show, and then to [perform] it with another girl that's a country artist, who I actually know, was just this bizarre, like, 'Really? What?' moment."
Still, there's a lot of prep work that goes into any performance for an artist as big as Stefani, uncharted territory or not. Here, she gives POPSUGAR an inside look at how she got ready for the big day.
The Days Before the CMT Awards
Figuring out the direction she wanted to take the performance was the first step. Do you reinterpret the song, or keep it just as it was 30 years ago? "There's a lot of thought that goes into it, especially for someone like me who's been around so long, because you're trying to reintroduce yourself as the new version of where you are now, but also take along the old version at the same time," Stefani says. "When you're doing a song that's so old, you want it to feel fresh and new but you also want it to feel nostalgic. You want it to be familiar and comforting." After some back-and-forth, they decided to keep it close to the original.
Then, it's time to decide on an outfit, which she collaborates on with her stylists Rob Zangardi and Mariel Haenn. "I really need to know what I'm wearing to kind of know everything," she says. Her vision? "I told Rob, I really love these polka dots. I feel like that's a new version of a black and white checkerboard."
That doesn't mean she had her final look secured until right before leaving. "I kept being like, 'What are we doing? What am I gonna wear?' I was panicking because I just didn't know what it was gonna be. And [Rob] was like, 'I got you.' He knows how to make the new version of everything I've ever done," Stefani says. "He came to me with this perfect white polka dot dress, and I put it on and I was like, 'I don't even have to try anything else on.'"
Still, "It's way different from what I would normally choose," Stefani says. "But when you're doing TV, there's a little more allowance for heels or a dress. It seems weird to say that, but when you write a song and it has a certain attitude toward it, if you're in a sexy outfit, it just doesn't work."
If you've heard "Just a Girl," you know exactly what attitude Stefani is alluding to. It's one that evokes girl power, nostalgia, and playfulness — which is exactly what she wanted to bring to life with her makeup. She knew she wanted to wear the red lip she was most known for, in a shade she created herself for her brand GXVE. "We're a baby brand, just one year old, and we had to start somewhere, and we started with lip because I feel like everyone my whole life was asking me 'What color do you wear?' so I created my favorite shade," Stefani says.
Creating good makeup, she says, is her "for real passion." "Everybody has products, everybody has makeup, but for me, designing the makeup was [asking] how do I beat what I already wear?" Stefani says. "How do I try to get it to the next level where it's clean, which is important these days, but the most important thing is how does it look, how does it feel, how does it wear, does it last?"
The Day of the CMT Awards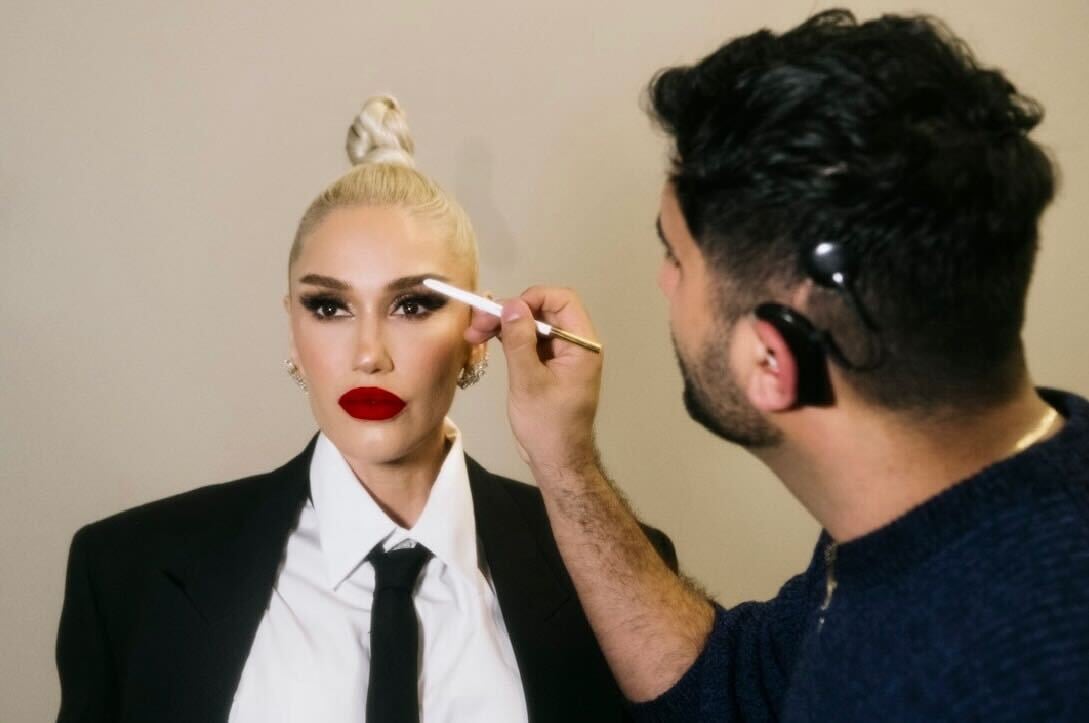 Image Source: Melodi Ramirez
When the day of the award show comes, it's all about settling on the final details. For her on-stage look, Stefani decided to go with her classic red lip with a smoked-out eye, which she executed the help of celebrity makeup artist Ernesto Casillas. She lined her lips using the GXVE Anaheim Line ($20) in the shade Scarlet Red, which she topped off with the GXVE I'm Still Here Matte Liquid Lipstick ($24) in the shade Original Recipe. According to her, it's essentially performance-proof: "I can wear this matte lipstick on stage and I do all the time," Stefani says.
As for her eyes, she used a combo of the GXVE Cream Eyeshadow ($20) in shades Ska Vibes and Top Knot, as well as the GXVE Glitter Eyeshadow ($24) in the shades Glimmer and Dazzle. To finish it off, she used the GXVE Line It Up Eyeliner ($20) in the shade Spiderwebs, and punctuated the look with the brand's new mascara, the GXVE Can't Stop Staring Mascara ($20).
There's a lot that goes into getting ready for an award show, but Stefani has been doing it for over 30 years, so she knows the drill. And, as someone who personally watched her sing "Just a Girl" on stage while fans screamed her lyrics at the top of their lungs, I can confirm that her entire performance – including her makeup – was nothing short of magical.
Image Sources: Ernesto Casillas/Melodi Ramirez and Photo Illustration: Michelle Alfonso