Taiwan is a foodie's paradise – talk about travelling there and you'll likely conjure up images of street food, late-night food corners, and bustling night markets. Taiwan is brimming with restaurants and side street eateries, leaving travellers spoiled for choice when it comes to food.
Whether you're making your first trip to Taiwan or returning for the hundredth time, you'll never run out of new things and places to try. Taiwanese food may be a complicated mix of many different things as it is influenced and inspired by various cultures and cuisines, but one thing's for sure—you'll always feel satisfied after taking your last bite or sip.
The best part? You can enjoy Taiwanese dishes almost anywhere, whether it's an assuming street stall or a jam-packed night market. With a long list of culinary delights to try, it can be difficult to figure out where to start. To make your trip easier, we have compiled a Taiwan food guide, listing the must-try dishes and places to eat them, so you'll never go hungry.
Popular Taiwanese dishes to try
Beef noodle soup
Need a comforting bowl of noodles? Beef noodle soup is the answer. This rich noodle dish contains tender braised beef, bok choy (a type of Chinese cabbage), and hot broth that leaves you wanting more. Since this is the national dish of Taiwan, any trip can be considered incomplete without trying the beef noodle soup. While other countries have their own versions, the Taiwanese version is full of warm spices and flavours from beef shins.
Best places to try Taiwanese beef noodle soup:
Lin Dong Fan, No. 322, Section 2, Bade Road, Zhongshan District, Taipei, Taiwan

Yong Kang Beef Noodles, No. 17, Lane 31, Section 2, Jinshan S Road, Da'an District, Taipei, Taiwan
Braised pork rice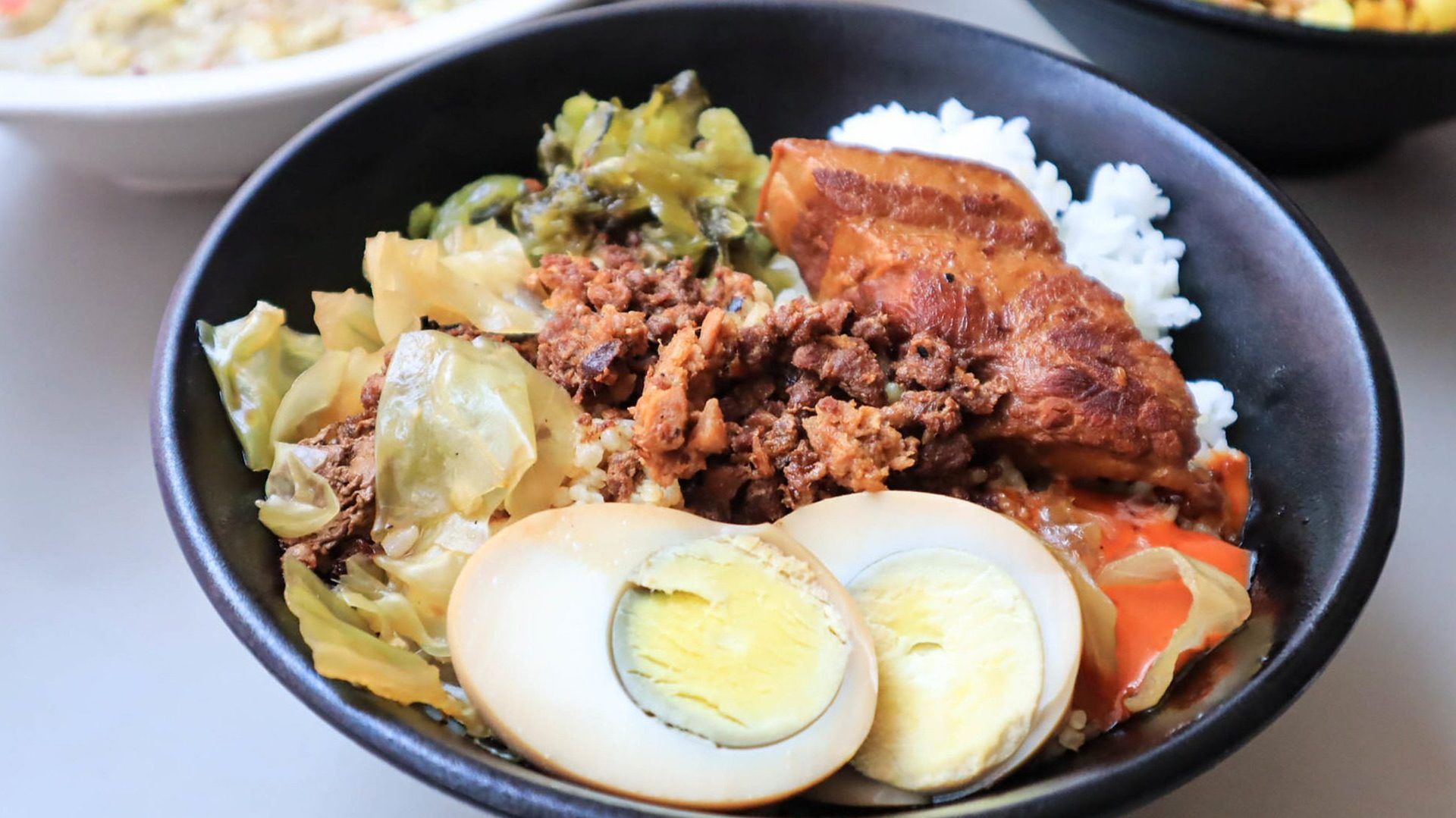 Braised pork rice or lu rou fan is one of Taiwan's most famous comfort foods. This all-in-one rice bowl dish normally contains stir-fried minced pork belly, slow-cooked in soy sauce. It may not sound appetising but its fall-apart tender texture gives it the melt-in-your-mouth flavour. The hardboiled egg, vegetables on the side, and soy sauce mixture complete the dish.
Best places to try braised pork rice
Jin Feng, No. 10, Section 1, Roosevelt Road, Zhongzheng District, Taipei, Taiwan

Wang's Broth, Stall 153, 17-4 Huaxi Street, Wanhua District, Taipei, Taiwan
Gua bao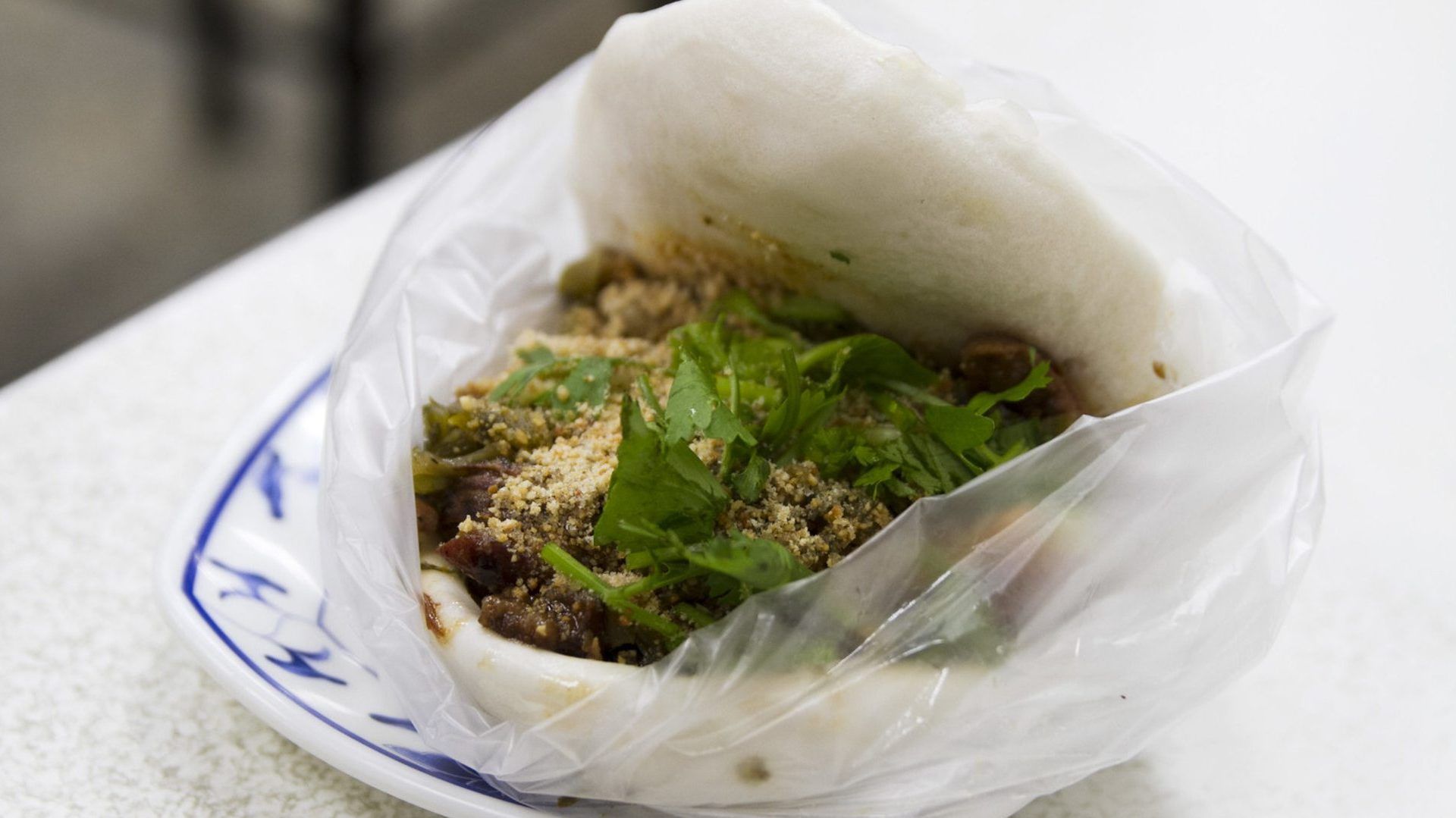 Also known as Taiwanese hamburger, gua bao is essentially a pork belly bun. It's made with a fluffy circular-shaped bun stuffed with tender pork belly and crunchy pickled greens. While pork belly is the traditional filling, you'll be able to find different varieties nowadays. Other popular choices are fried chicken, fish, eggs, and beef. Take your pick!
Best places to try gua bao:
Yuan Fang Guabao, Stall 161, 17-2 Huaxi Street, Wanhua District, Taipei, Taiwan

Lan Jia Guabao, No. 2, Alley 8, Lane 316, Section 3, Roosevelt Road, Zhongzheng District, Taipei, Taiwan
Danzai noodles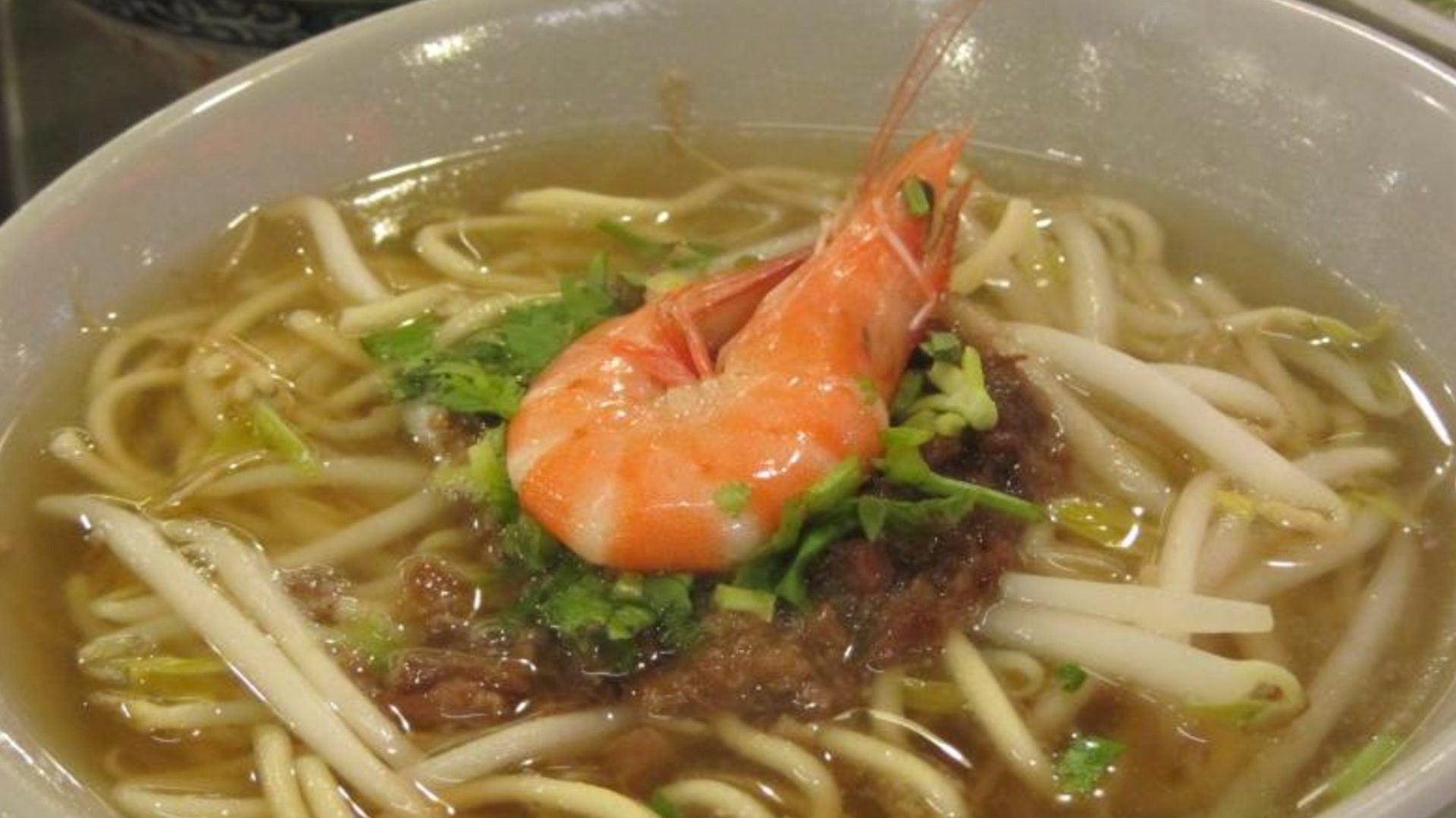 Danzai noodles, also known as ta a mi or slack season noodle, is a must-try! A native dish of Tainan, danzai refers to the wooden poles that Taiwanese fishermen used to carry suspended pots over their shoulders during "slack" or "off-season". A standard bowl of banzai noodles consists of seafood (typically shrimp), minced meat, vegetables and herbs like coriander.
Best places to try danzai noodles
Small Park Danzai Noodles, 321 Section 2, Ximen Road, West Central District, Tainan, Taiwan

Du Hsiao Yueh Danzai Noodles, No. 216, Section 2, Minzu Road, West Central, District, Tainan, Taiwan
Zong zi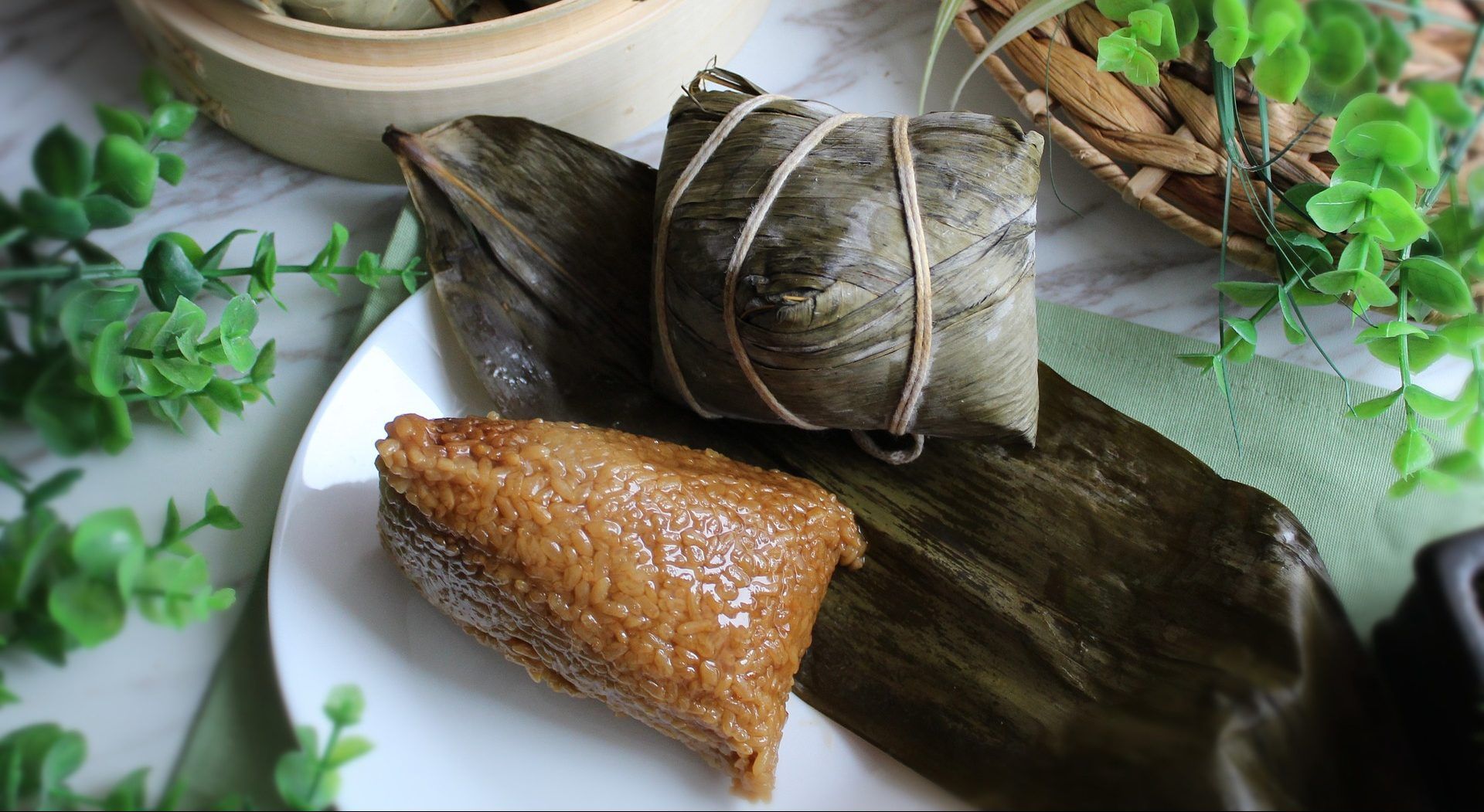 While zong zi (sticky rice dumpling) is a normal sight during Dragon Boat Festival, it can be eaten on a regular basis as it also symbolises luck. This leaf-wrapped sticky rice comes in different shapes, but the Taiwanese version is usually pyramid in shape. A traditional zong zi contains pork, mushrooms, and peanuts. 
Best places to try zong zi:
Li Family Huzhou Zong, Nanmen Market, No. 55, B04-B051, 1/F, Section 2, Hangzhou Road, Da'an District, Taipei, Taiwan

Wangji Fucheng, No. 374, Section 2, Bade Road, Songshan District, Taipei, Taiwan
Baobing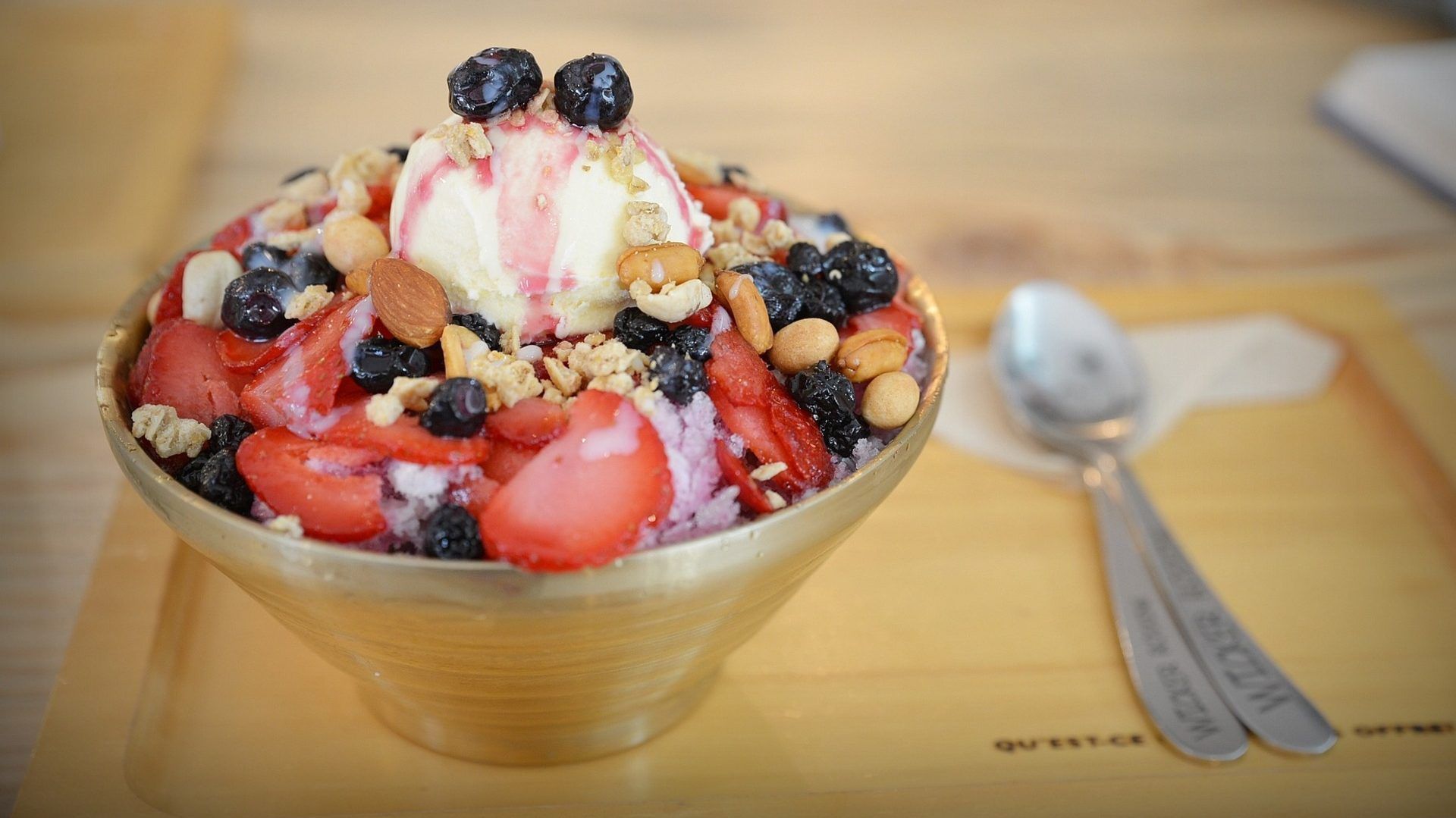 Baobing or shaved ice isn't a dessert unique to Taiwan as other neighbouring countries like Japan and South Korea have their own versions. Still, this is an extremely popular dessert in Taiwan. What sets it apart is the ice, which is made of milk rather than water. The ice is stacked on top of each other, creating a mountain filled with different fresh fruits and syrup. It's the perfect summer dessert to quench your thirst!
Best places to try baobing:
Ice Monster, 16 Songgao Road, Xinyi District, Taipei, Taiwan

Smoothie House, No. 15, Yongkang Street, Da'an District, Taipei, Taiwan
Douhua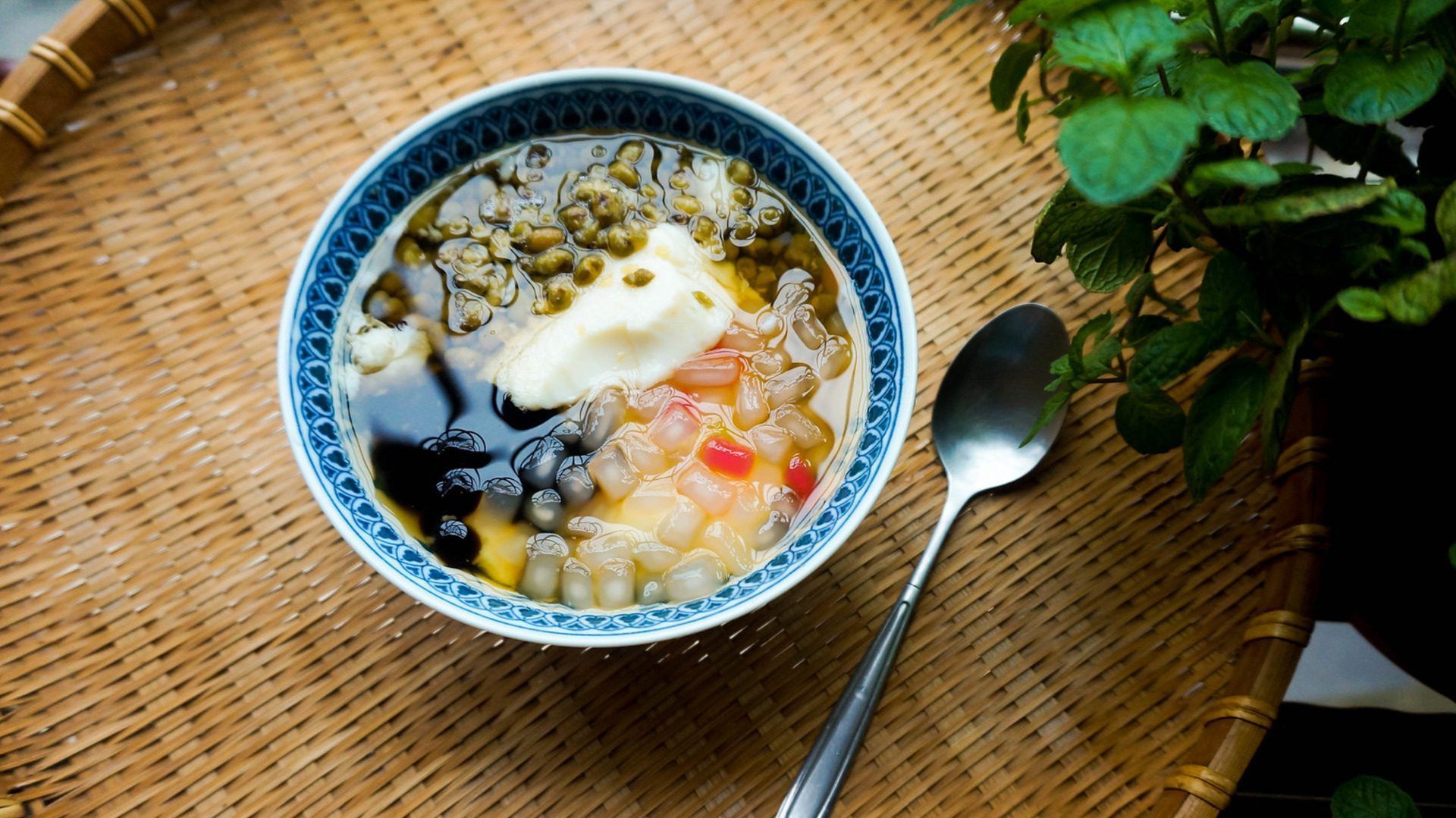 To those who may not be familiar with Asian or Taiwanese food, it may feel strange to have tofu as a dessert. Douhua (tofu pudding) can either be sweet or savoury but nevertheless, soft, smooth, and silky, that it easily melts in your mouth. But just the tofu alone isn't enough! You should have it with toppings such as red adzuki beans, green mung, beans, and jellies, topped with sugar syrup for that extra sweetness.
Best places to try douhua:
Longtan Douhua, No. 239, Section 3, Tingzhou Road, Zhongzheng District, Taipei, Taiwan

Sao Dou Hua, No. 26, Lane 131, Yanji Street, Da'an District, Taipei, Taiwan
Aiyu jelly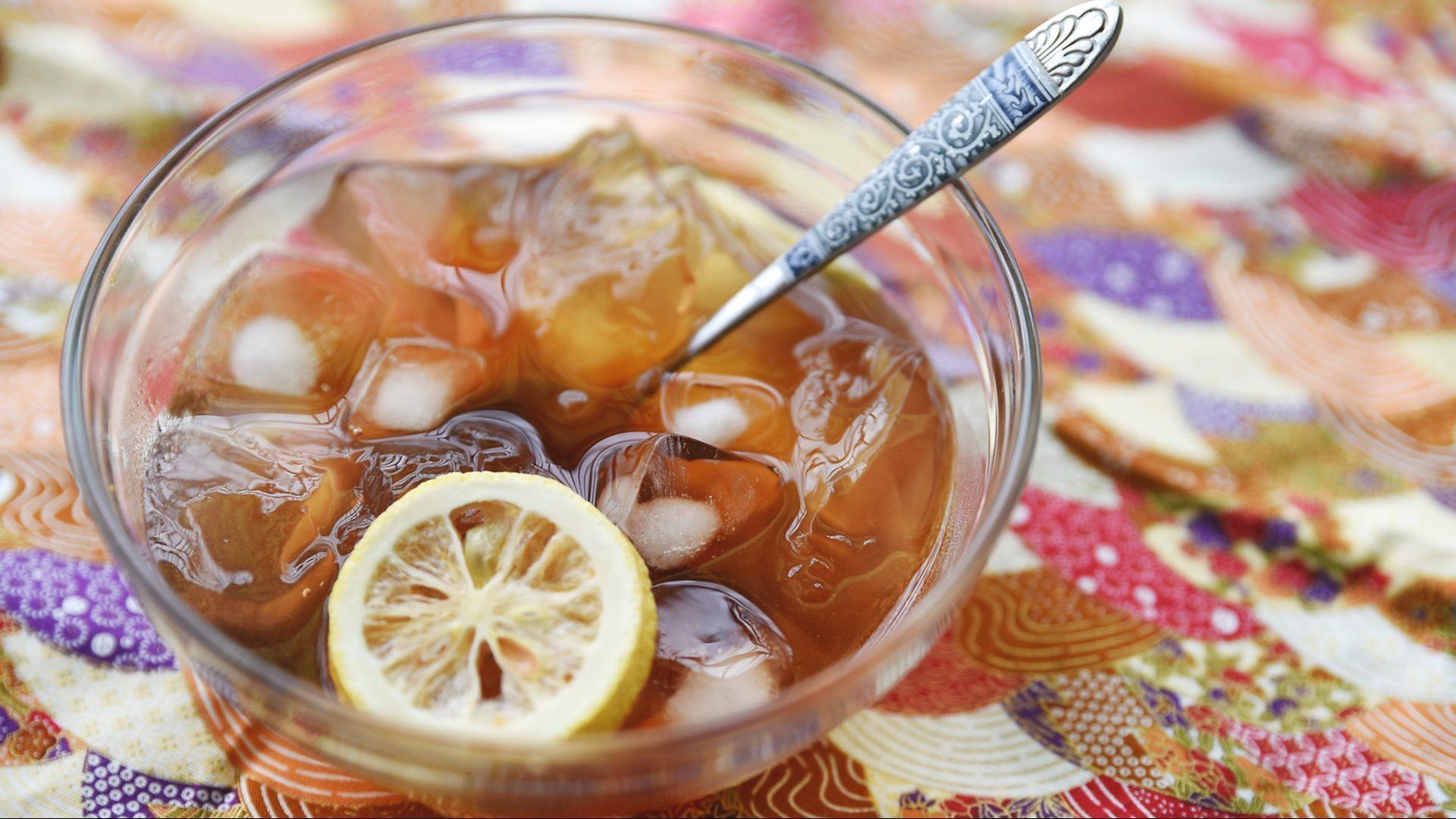 Aiyu jelly is not only a refreshing dessert but it's also healthy! As it's normally made without sugar and is low in calories, it's often referred to as a "divine delicacy" during summer. Its name, ai yu refers to fig seed, which is the main ingredient of jelly. This plant-based dessert is best served with lime and cranberries.
Best places to try Aiyu jelly:
Yuan Huan A Sheng Aiyu Jelly, No. 262, Nanjing West Road, Datong District, Taipei, Taiwan

Xiao Nan Men Traditional Food, No. 11, Songgao Road, Xinyi District, Taipei, Taiwan
Pineapple cake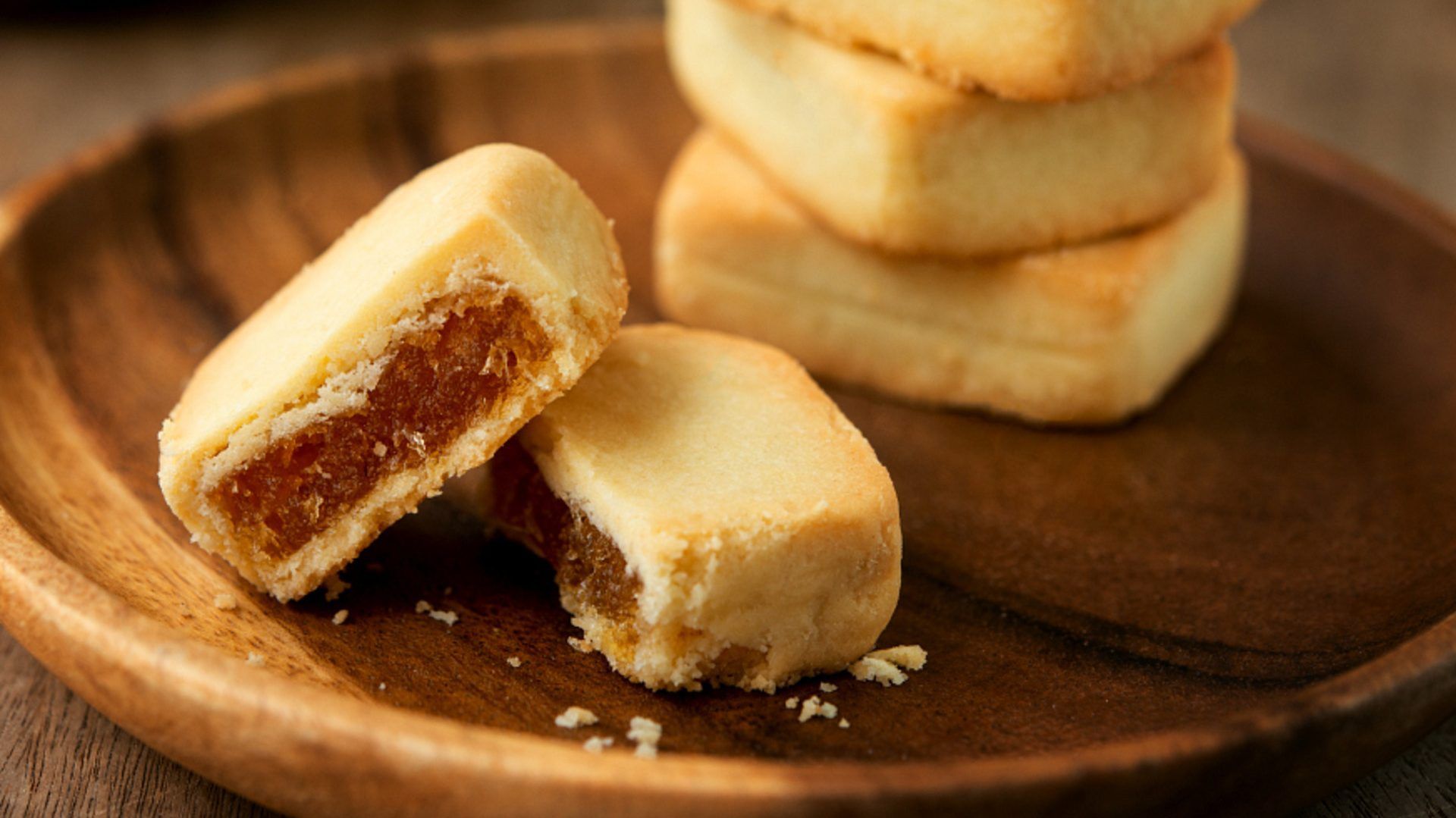 A trip to Taiwan isn't complete without trying (or bringing back home) pineapple cake! Pineapple has a status symbol in Taiwan, as it represents wealth and prosperity. The Taiwanese Hokkien name of pineapple cake is a homophone of the phrase "ong lai" that means "fortune will come". This is why it's regarded as a beloved sweet treat. It's commonly made as a cake or shortbread tart, filled with chewy pineapple jam.
Best places to try pineapple cake:
Chia Te Bakery, No. 88, Section 5, Nanjing Road East, Songshan District, Taipei, Taiwan

Taipei Leechi, No. 67, Section 2, Chang'an East Road, Zhongshan District, Taipei, Taiwan
Milk tea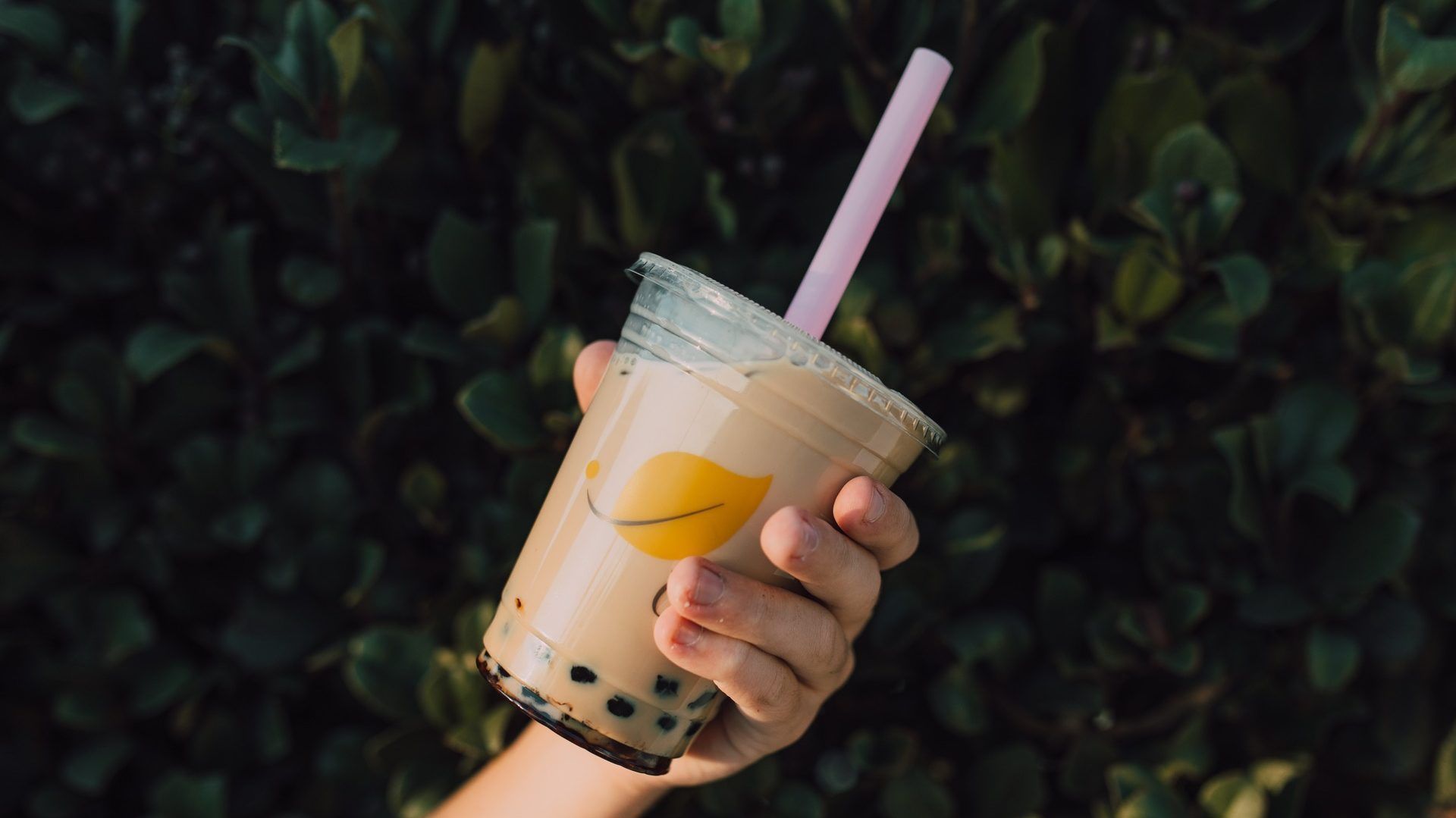 Bubble milk tea has taken the world by storm. Known for the "bubble" or tapioca pearl balls, you can find this tea-based drink almost anywhere in Taiwan! Just look at the menu of bubble tea stands, and you won't even know where to start because the choice seems endless. That said, nothing beats the classic and delicious pearl milk tea. However, you can also try black tea with customised sugar levels, toppings (tapioca or grass jelly), and of course, flavour. A popular milk tea chain, Truedan, has over 100 stores across 12 regions, so you can imagine the craze!
Best places to drink milk tea:
春山茶水舖, No. 323, Section 2, Fuxing South Road, Da'an District, Taipei, Taiwan

Truedan, No. 17-1, Section 5, Zhongxiao East Road, Xinyi District, Taipei, Taiwan
Have you bookmarked this Taiwan food itinerary?
(Hero and featured image credit: I.S.S Photography/Getty Images)
The story first appeared on Lifestyle Asia Singapore