With the right dinnerware, the table almost sets itself. Hosting a dinner party is never complete without a beautiful table setting. Pretty porcelain and fine china are investments, designed to be turned into family heirlooms or statement pieces for evoking sophistication and even whimsy. Whether you're looking to set the stage for your next gathering or make every meal a visual feast, these tableware collections will offer an epicurean experience to remember.
HERMÈS
Hermès channels its historic savoir faire into its tableware range defined by bold, graphic shapes and collaborations with emerging artists. Its latest collection of the Soleil d'Hermes is a cheerful tribute to sunshine and offers the perfect accoutrements for an outdoor do or summer dinner party. Inspired by the Mediterranean sun's intense blazing light, the collection features a pure porcelain white base decorated with bright yellow shades and geometric patterns with cross-hatching to embody the sun's rays. The collection comprises 24 pieces, including teapots, mugs, platters and plates for different courses. All are emblazoned with the Soleil d'Hermes nature motifs of palm fronds and trees in the abstract. This is the third Hermès tableware collection by illustrator Arielle de Brichambaut, under the direction of Benoit Pierre Emery, longtime creative director of Hermès tableware.
HAVILAND
For the gold standard of porcelain tableware, turn to Haviland, a storied manufacturer of Limoges Porcelain since 1842. Haviland's meticulously made porcelain has graced the tables of the world's upper crust, including royal families, governments and society elites the likes of wife of Napoleon III Empress Eugenie, former French president Jacques Chirac and Prince Rainier of Monaco. Some of the maison's most iconic designs include the Syracuse pattern, which features delicate floral motifs in soft pastel shades, and the Ranson pattern, which has a bold Art Deco-inspired aesthetic. Its newest collection is the Rêves du Nil, which is reminiscent of ancient Egypt art with hand-painted gold details. The brand also offers custom designs, allowing clients to create their own bespoke dinnerware.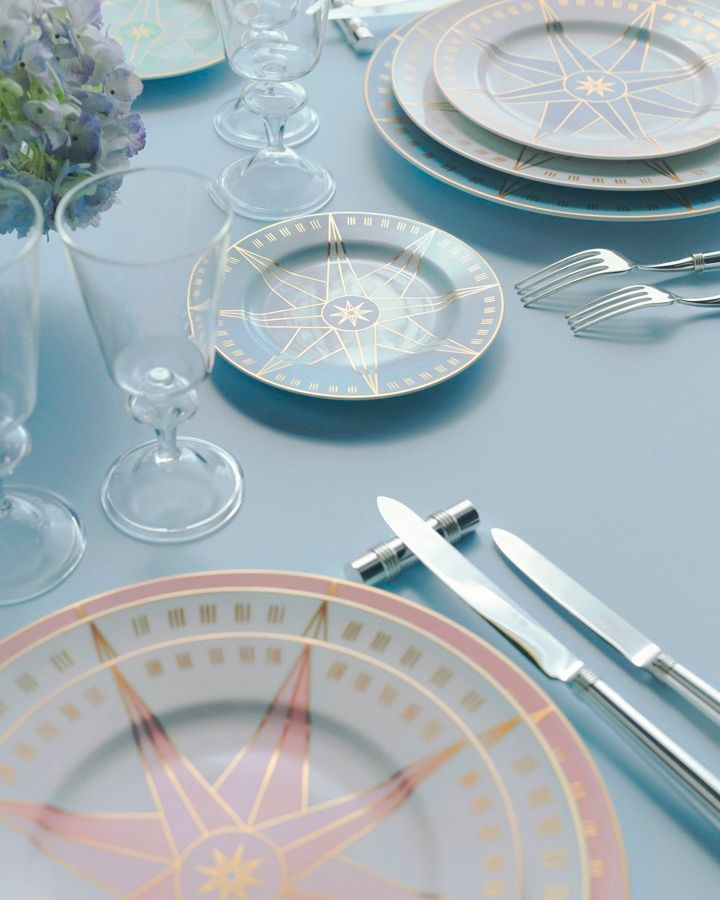 DIOR
Dior brings its French craftsmanship into your home with its Dior Maison arm. Its latest tableware collection is the Rose Des Vents, a tribute to the wind rose found in Monsieur Christian Dior's childhood home in Granville, Normandy. Here, the wind rose pattern is reinterpreted into an eight-pointed star that is inspired by his lucky number eight. Representing wanderlust and a thirst for exploration, Rose Des Vents takes you on an odyssey through the history of the house, its founder and faraway places. Here the motif is enlarged and illuminated with 24k gold details on porcelain. The range, spanning presentation, dinner and bread plates, as well as tea and coffee cups and saucers, comes in jewel tones such as peridot, topaz, carnelian and aquamarine.
FENDI
House codes are revisited and reimagined in Fendi's home décor debut. Constructed from the finest French Limoges porcelain, the plates are adorned with an interlacing Fendi O'Lock logo in black and white, forming a chain in both micro and maxi versions with elegant touches of gold. The collection also includes mugs, teapots and coffee cups featuring elegant lids with the gold O'Lock motif. The glasses, designed by Silvia Venturini Fendi and her mother Anna Fendi, are inspired by the latter's private homeware collection, with an eye-catching silhouette created by melding two matching crystal vessels. The O'Lock is also used to embellish the table décor and can be seen on the matching candleholders and slender Murano glass vases.
DOLCE & GABBANA
Eclectic, flamboyant yet always refined, the Dolce & Gabbana Casa collection is another extension of the house's Italian heritage and craftsmanship. The wide tableware selection spans porcelain plates, chargers, tea sets and hand-blown Murano wine and shot glasses. Striking and vibrant, the pieces take deep inspiration from the house's fashion line. These include the Blu Mediterraneo collection, in shades of white and deep blue and inspired by the ancient majolica art of Caltagirone; and bold zebra patterns that draw from a classic archival foulard print. Additionally, the tableware features folklore patterns associated with the Carretto Siciliano, or the Silician cart, which is a renowned symbol of Sicilian folk iconography that also doubles up as an emblem of the brand's design heritage.