From eco-friendly swim to easy, breezy dresses, Free People is killing it lately. However, consider this our PSA to not sleep on FP Movement — aka your one-stop shop for cute, functional workout clothes. For our latest review, we enlisted the help of our coworkers to test out a slew of FP Movement's fan-favorite sports bras and bottoms.
Luckily, no matter your style, FP Movement has it all. Some of us thrive in a monochromatic color palette; others love a Barbiecore pop of pink. Still, others love a high-neck, Sporty Spice vibe paired with cropped skorts or fancy a seamless square-neck top with an essential pair of joggers. Ahead, R29's freelance models Shopping team highlights various perfect pairings featuring the must-try pieces for hot-girl walks, summer lounging, and much more.
Kate Spencer, Senior Affiliate Strategist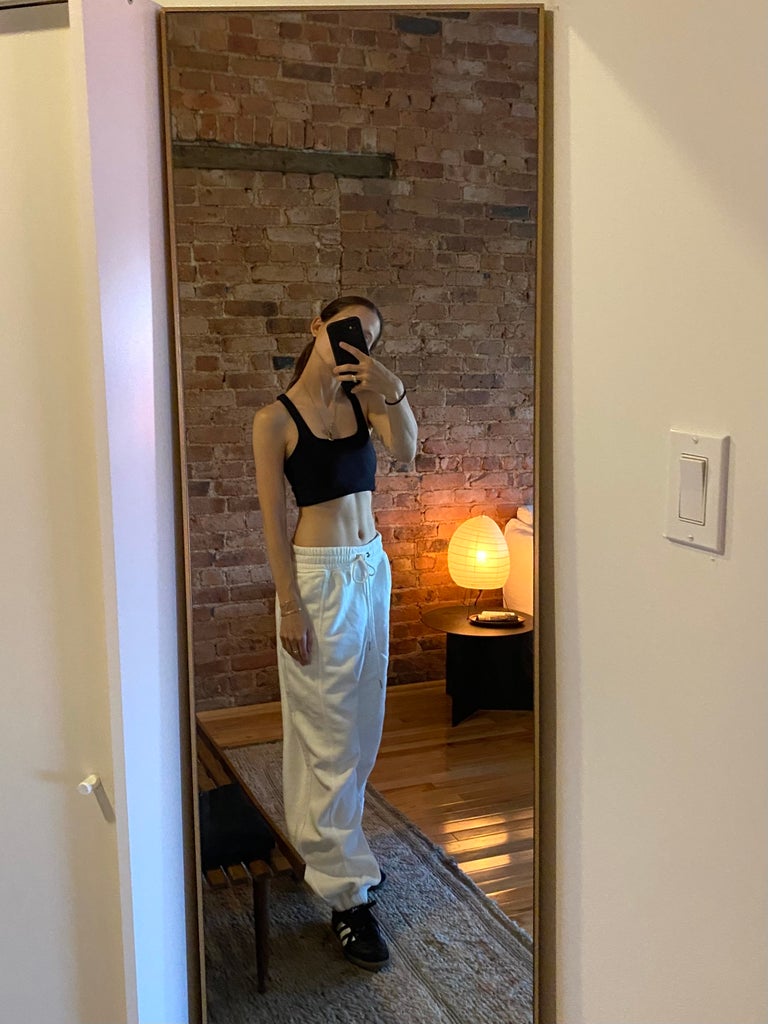 "I'm a little picky with sports bras because I like to feel supported but don't like to feel restricted at all. The Never Better Square Neck Bra fits the bill for me. It's super-soft and comfortable but still feels secure on my body and appropriate for walks and most other types of physical activity (at least for my chest size and preferences). I also find sports bras without adjustable straps to be pretty hit or miss on my petite frame, but I was pleasantly surprised when this fit just right! (For reference, I took an XS in both the top and bottom I'm wearing).
"I paired the bra with the Sprint To The Finish Pants, which are literally like marshmallow clouds in sweatpant form. They're roomy and so plush but definitely stylish enough to walk to coffee or a workout class without looking like you just rolled out of bed."
Alexandra Polk, Lifestyle Market Writer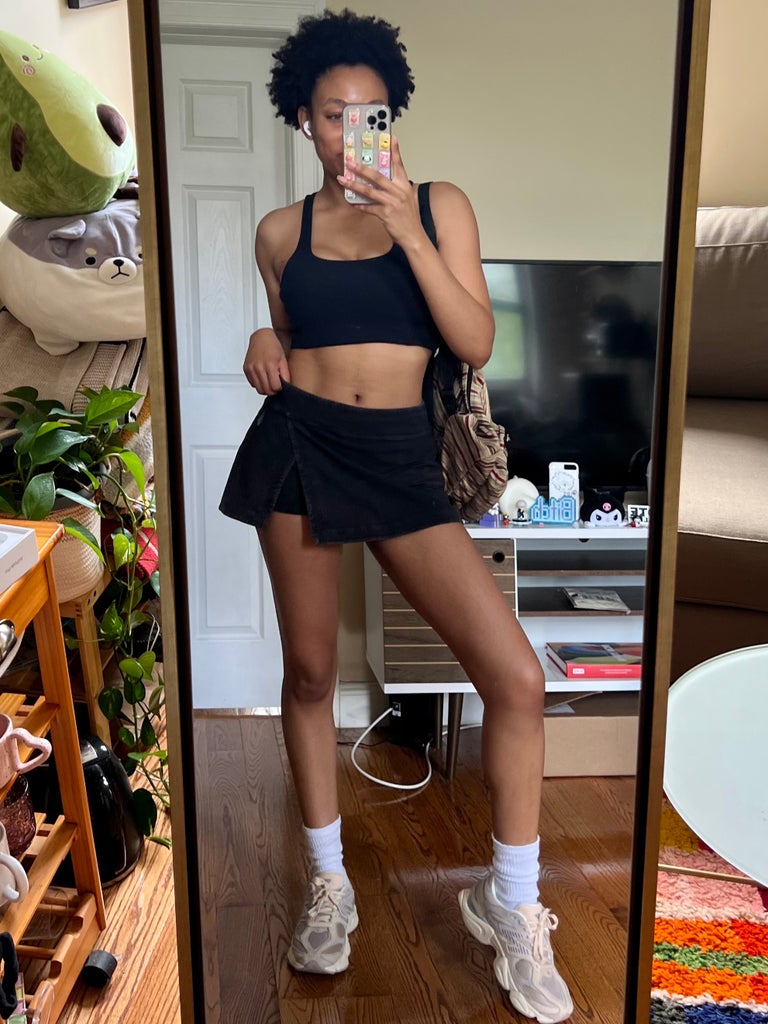 "If FP Movement does one thing amazing, it's a square neck. I'm a big fan of the brand's ribbed Happiness Runs Square Neck Crop Tank and I am now equally enamored with its Never Better Square Neck Bra. My breasts apparently live for this silhouette because FP Movement's sports bras are now the comfiest ones I own. When I wear the Never Better Bra to the gym everything stays put without a constricting feel that some other bras give — it's so nice to be able to breathe AND forget about my boobs when I'm hitting a sprint. And, as luck would have it, this top looks quite dashing when paired with the brand's ultra-comfy mini skort. I don't plan on wearing the skort to the gym per se, but you'll see me sporting both pieces (and probably a jacket) on leisurely hikes, long walks, and casual exercise days this summer."
Mercedes Viera, Associate Deals Writer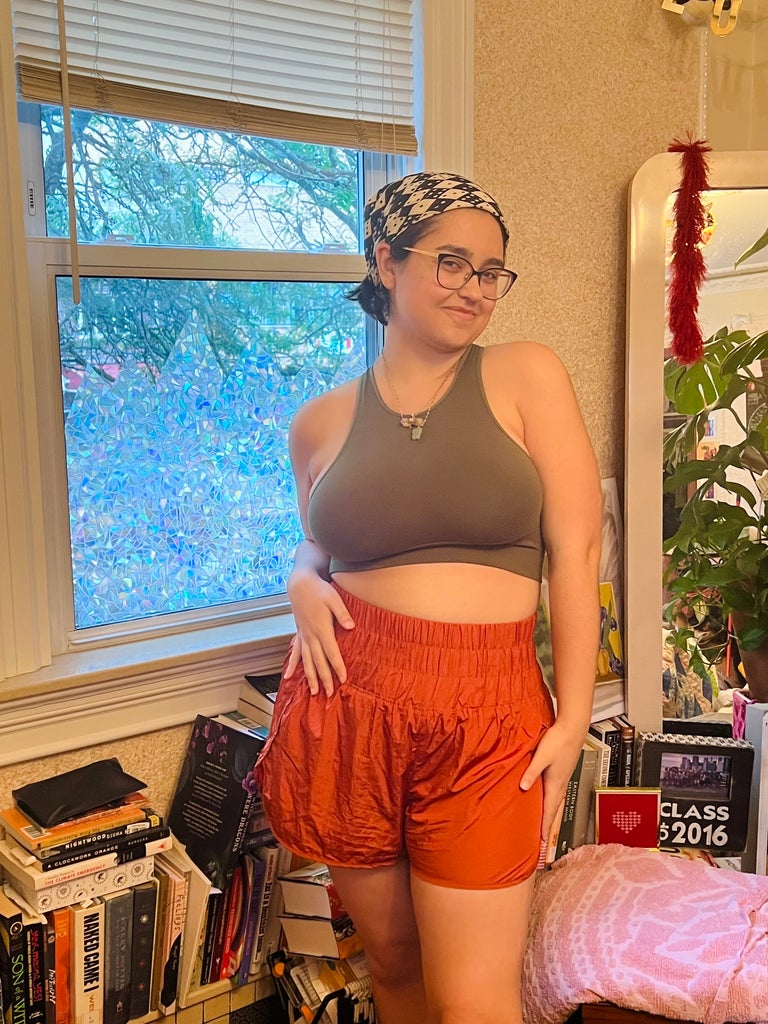 "I was really afraid that this sports bra wouldn't fit me. I always have this issue with anything boob related, and with a 38H size, it's pretty obvious why. I got the Every Single Time Bra in a size XL (which is the biggest size they offer) and in the color Seagrass. I'm always down for more coverage so this one definitely fit the bill from the front. Although, it was delivering a little more side-boob than I wanted. It's definitely supportive, even if by the end of the day my neck was hurting from the straps carrying all that weight. All in all, I would definitely recommend this sports bra! It looks really cute and it fits even the biggest of sizes.
"As for the shorts, meh. Honestly, I'm not a huge fan of the giant waistband, and I would prefer there to be pockets. I got The Way Home Shorts in a size XL and in the color Cinnamon Sugar. In terms of sizing, these were perfect. They fit me just right — not too tight but not too loose. Even with the waistband, they're very comfortable to sit in. The color is absolutely my favorite thing about these shorts, along with how soft and breathable the fabric is. If you love the look and don't mind the lack of pockets, I would recommend them."
Becca Sax, Affiliate Coordinator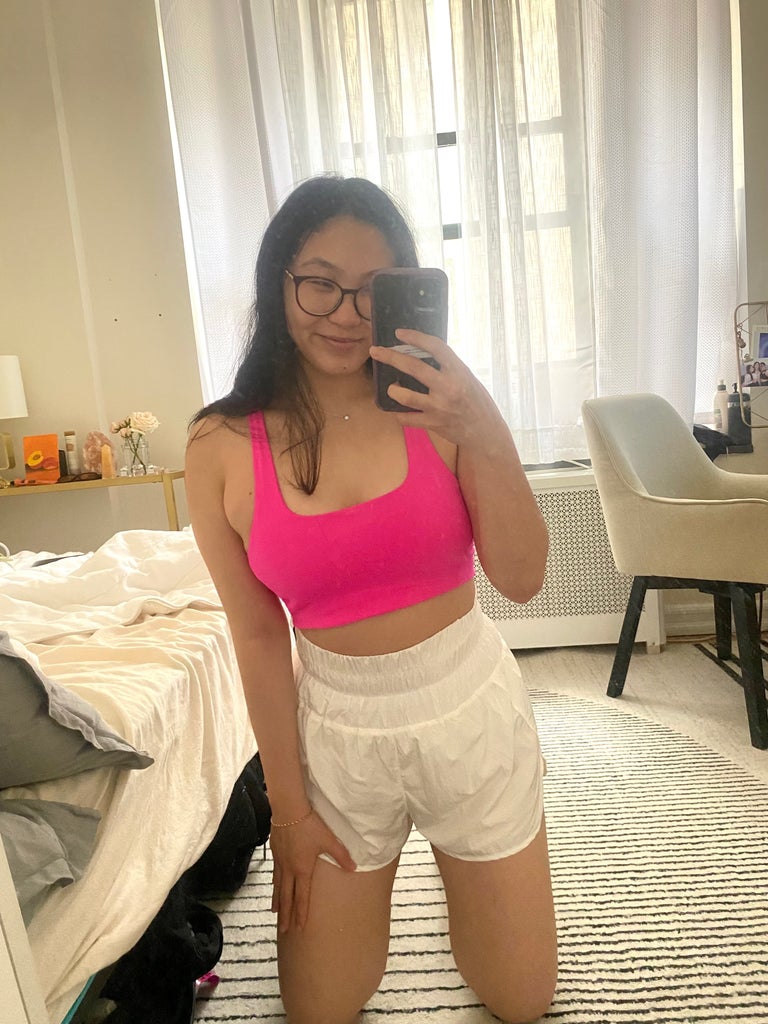 "FP Movement has done it again, this time with the Never Better Square Neck Bra and The Way Home Shorts. Both are comfortable enough to fall asleep in (yes, I napped after trying them on) and cute enough to roam around the city in. I got both in a large, and they fit wonderfully. The girls were secure, and they looked good in this ultra-bright pink, and my behind was all covered up. I really like how comfortable the Never Better bra is. It's like T-shirt fabric and isn't so tight that it causes those red marks after I take it off. The Way Home shorts seem a little ludicrously tall at first but let me tell you: I got used to the height of the band and even began to like it as it's a great phone hiding spot."
Karina Hoshikawa, Senior Writer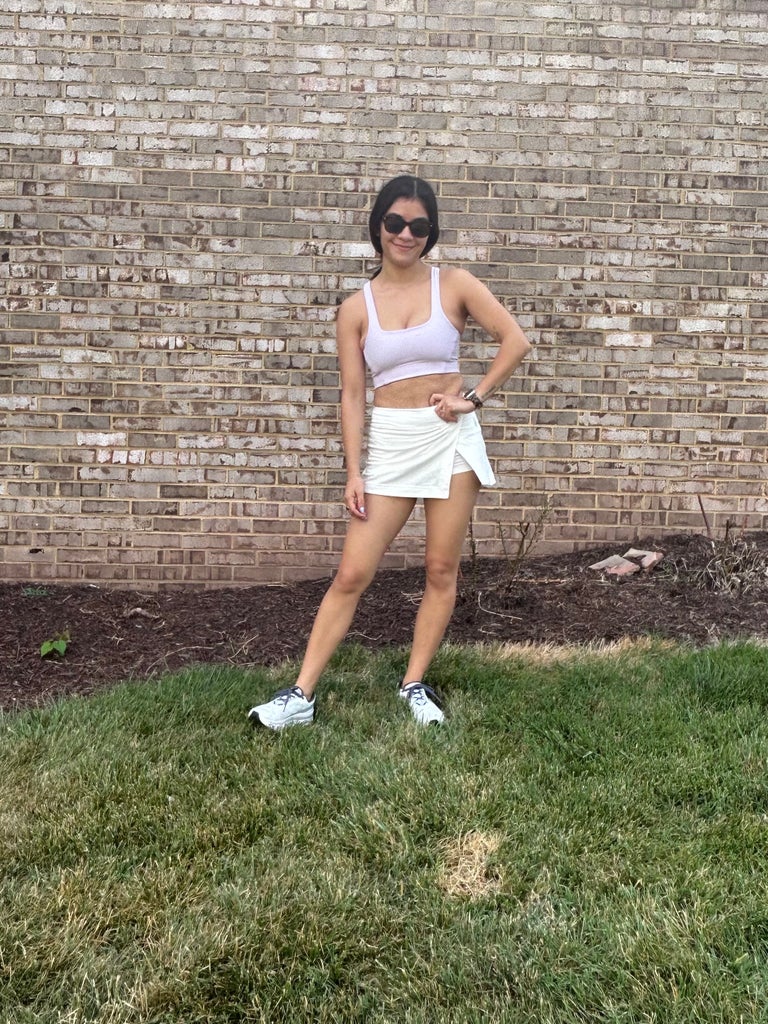 "I own a lot of FP Movement — I have a special soft spot for the workout onesies — so I was excited to add the Never Better Square Neck Bra and Hot Shot Mini Skort to my collection. Both pieces were super-soft and smooth to the touch — I couldn't wait to try them on. I got both the bra and the skort in an XS, and they were true to size. The bra was the prettiest shade of lavender and was super-supportive. It has a longline silhouette, so I could honestly see myself wearing this as a tank top or under a loose cardigan to lounge at home.
"As for the skort, when they say mini — they mean it! It's super-cute and comfortable, and it kind of makes me want to take up tennis. (I love wearing it with an oversized sweatshirt or fleece.) I probably wouldn't wear it for anything super high impact, but during a chill jog? Absolutely. Honestly, this will be a go-to piece for me this summer."
Venus Wong, Senior Travel Writer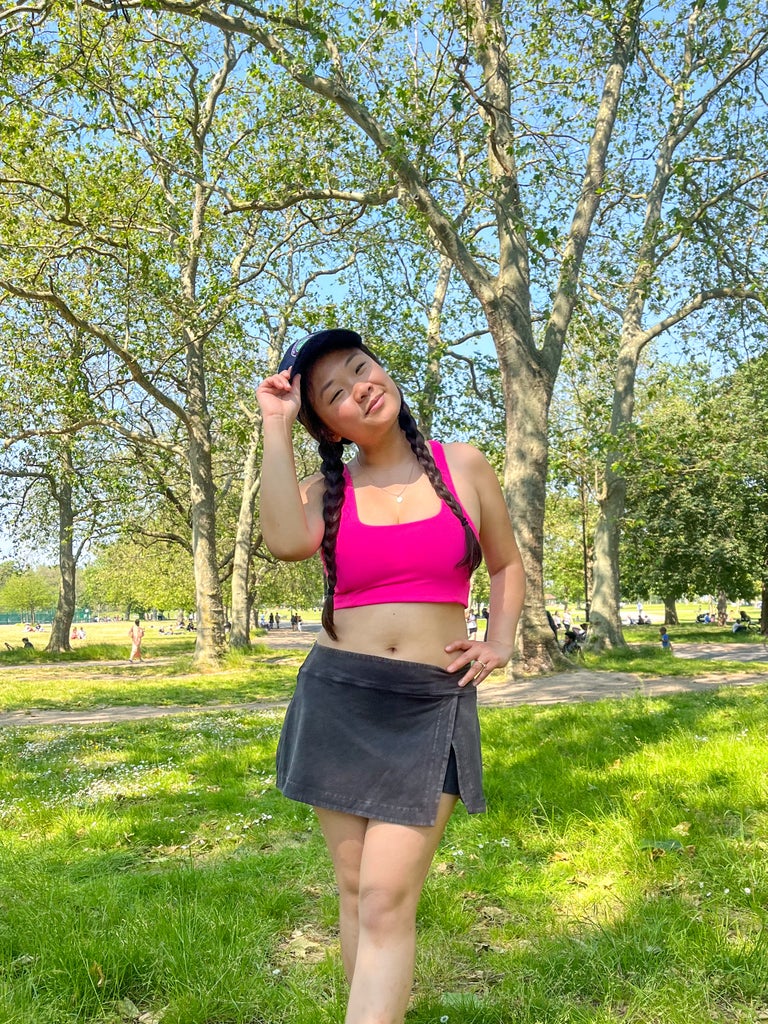 "Allow me to introduce you to the sporty-chic ensemble you'll find me wearing all summer long, especially during a heatwave. The Never Better Square Neck Bra kept me feeling breezy and well-supported through a sweltering Saturday socializing and barbecuing in London, thanks to a thick underhand design that kept my boobs in place without feeling drenched in sweat (the lining is a buttery-soft fabric that is both breathable and moisture-wicking). I love the square-neck design and V-shaped neck detail, which is a design combo that I know looks really good on my fuller chest. Just be aware that the Hot Pink colorway is neon-bright, as you can see in the try-on photo.
"The Hot Shot Mini Skort is just about my new fave summer bottoms (inside the gym and out). The flouncy hem and slit design are so flirty, but it still gives the right amount of coverage on my butt, with the fitted shorts underneath the front panel. I loved how the slightly faded cotton look of the fabric is compatible with non-workout clothes, compared to the Spanx-like, shiny fabric you usually see in exercise gear. The zipped pocket was perfect for storing my keys and credit card. It does feel slightly larger, so I would size down if you're in between sizes."
Victoria Montalti, Associate Affiliate Writer
"I can't emphasize enough just how soft (and plush? squishy?) these FP Movement pieces are. When I wear them, I find myself occasionally petting myself because of how nice the fabrics are. I'm really into brown tones right now, so I ordered the Every Single Time Bra in Hot Fudge and the Sprint To The Finish Pants in Hickory for a semi-monochromatic workout look. I really enjoy the sports bra's high neckline and longline cut because, unlike most sports bras I own, I feel comfortable wearing it as a shirt without the panic of flashing everyone at the gym. I ordered the M/L option, and it fits perfectly on me — the material is really compressive, so it molds to my body and holds me all in. The racerback is also so cute with the large keyhole detail.
For the sweats, my teammate Kate Spencer described them as feeling like giant marshmallows, and I couldn't agree more. The fabric is so soft and the relaxed fit, which I ordered in a large, is so cozy. I did a mellow at-home stretch in this workout set and the pants served me well, but I don't really see myself wearing these sweats for summer workouts, especially because of the fleece lining. But they'll definitely get more use in the fall and winter and will serve as the ultimate home movie night sweats in the meantime."
At Refinery29, we're here to help you navigate this overwhelming world of stuff. All of our market picks are independently selected and curated by the editorial team. All product details reflect the price and availability at the time of publication. If you buy or click on something we link to on our site, Refinery29 may earn commission.
Like what you see? How about some more R29 goodness, right here?
Free People New Arrivals Are Here For Summer
R29 Editors' Favorite Free People Summer Fashions
R29 Editors Try Free People Eco-Friendly Swimwear