The newest and buzziest skin-tightening treatment on the market is Sofwave. The non-invasive, in-office device is quickly becoming a go-to for celebrities and a great overall treatment to pair with an antigaging regimen to maximize results. Receiving FDA clearance in 2019 to treat the face, neck, and submental area (that tough-to-treat area right under the chin) by using Synchronous Parallel Ultrasound Energy (known as SUPERB – an extremely accurate acronym), it is meant to build collagen and improve the overall quality of your skin.
In one session, which takes about 30 to 45 minutes, plus a once-yearly follow-up to maintain results — you can start building what Lyle Leipziger, MD, chief of plastic surgery at North Shore University Hospital and LIJ Medical Center, refers to as "bank collagen." It sounds exactly like what you think it is; it's kind of like a collagen savings bank account that you can dip into before the skin starts showing any visible signs of aging.
Sofwave can be used proactively or even reactively depending on what point you're at in terms of your skin needs. Its technology is different from other devices on the market that promise noticeable, non-surgical results. "Sofwave uses ultrasound heat technology to promote and stimulate collagen and elastin production," says Amy B. Lewis, MD, board certified dermatologist. "It can treat skin sagging and laxity caused by loss of collagen and elastin as we age. [The] technology is innovative, effective, and has a significant impact on patient outcomes. This new technology can provide safe and effective skin rejuvenation results without the need for surgery or significant downtime."
Being in my 30s, it's prime time for me to start building my "bank collagen" before my reserves start to deplete. While it's important to note that we all embrace our ages and faces differently and respectfully, it is my own personal goal to maintain what I have while also working on building up my collagen reserves. I went for Sofwave, in my case, as a preventative measure. "Pre-juvenation is a trend to start improving the collagen and elastin before we see the visible results of aging," says Dr. Lewis. "This helps prevent the sagging and crepiness that may otherwise occur."
My skin-care routine is now all strictly preventative. This past year, I really dove in with in-office treatments — I've tried RF microneedling to smooth my skin's texture, Morpheus8 to give it a lifting effect, AviClear to treat my hormonal and stress-induced acne, along with several others to help with my melasma. Sofwave not only felt like the next logical next step in treatments to try, but it also felt like the missing puzzle piece to pull all my efforts in prevention together.
Below, learn everything you need to know about Sofwave and see exactly what happened when I tried it.
How does the Sofwave Treatment Work?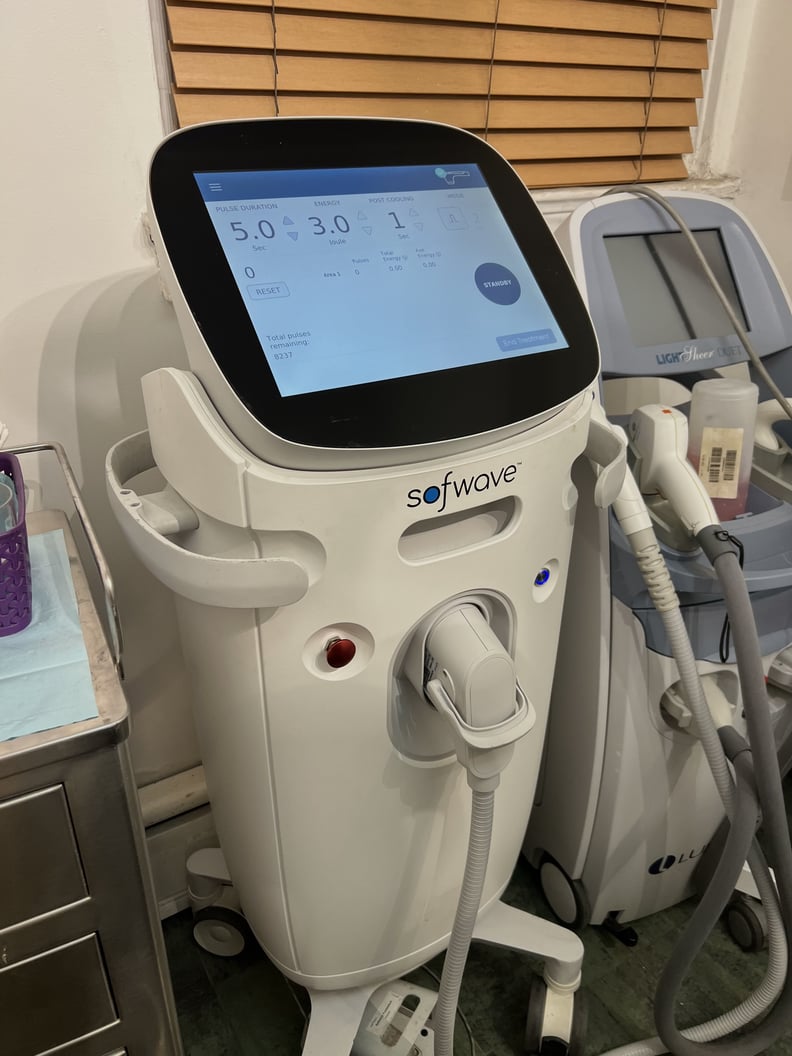 Even if you haven't heard of Sofwave, you may know about Ultherapy, a similar treatment that treats skin laxity and builds collagen. The difference, according to experts, is that the latter is much more painful. "Both Sofwave and Ultherapy use ultrasound technology to heat up tissue with the eventual goal of tightening and rejuvenating it by stimulating collagen," says Ksenyia Kobets, MD, director of cosmetic dermatology at Montefiore. However, Sofwave targets the mid-dermal layer of the skin — "at 1.5mm depth, when it has been studied to have optimal collagen stimulation," she says — which is more shallow than that of Ultherapy, making it more comfortable for patients with topical numbing cream.
Essentially, the ultrasound energy that is emitted from the device is not only easy to control by your provider, but targets the skin at a lower depth than Ultherapy, making it much less painful but yielding the same or similar results.
After the treatment, the affected areas trigger a healing response, which results in what's called "neo collagensis" — the process of making new collagen, says Dr. Kobets. In addition to Sofwave being significantly less painful (virtually painless in my experience, but more on that in a few) and yielding almost identical results, Dr. Kobets adds that "it is also safer and do[es] not have the potential risk of melting fat." Which, let's face it, as you age, holding on to facial fat helps to preserve a youthful appearance.
Though one treatment per year is usually the course of treatment, "[d]epending on the response and extent of laxity, a second treatment is recommended a few months later to compound on the collagen stimulating effects of the first treatment," says Dr. Kobets.
What It's Like to Get the Sofwave Treatment
I headed to Dr. Lewis' office on the Upper East Side in Manhattan for my one session of Sofwave, where medical assistant Rebecca Manzi would be performing my treatment. The first thing she did was apply numbing cream to the areas where I was having the treatment done: my face and neck. As I anxiously waited for the numbing to take effect, Dr. Lewis came in and explained what to expect during and after treatment.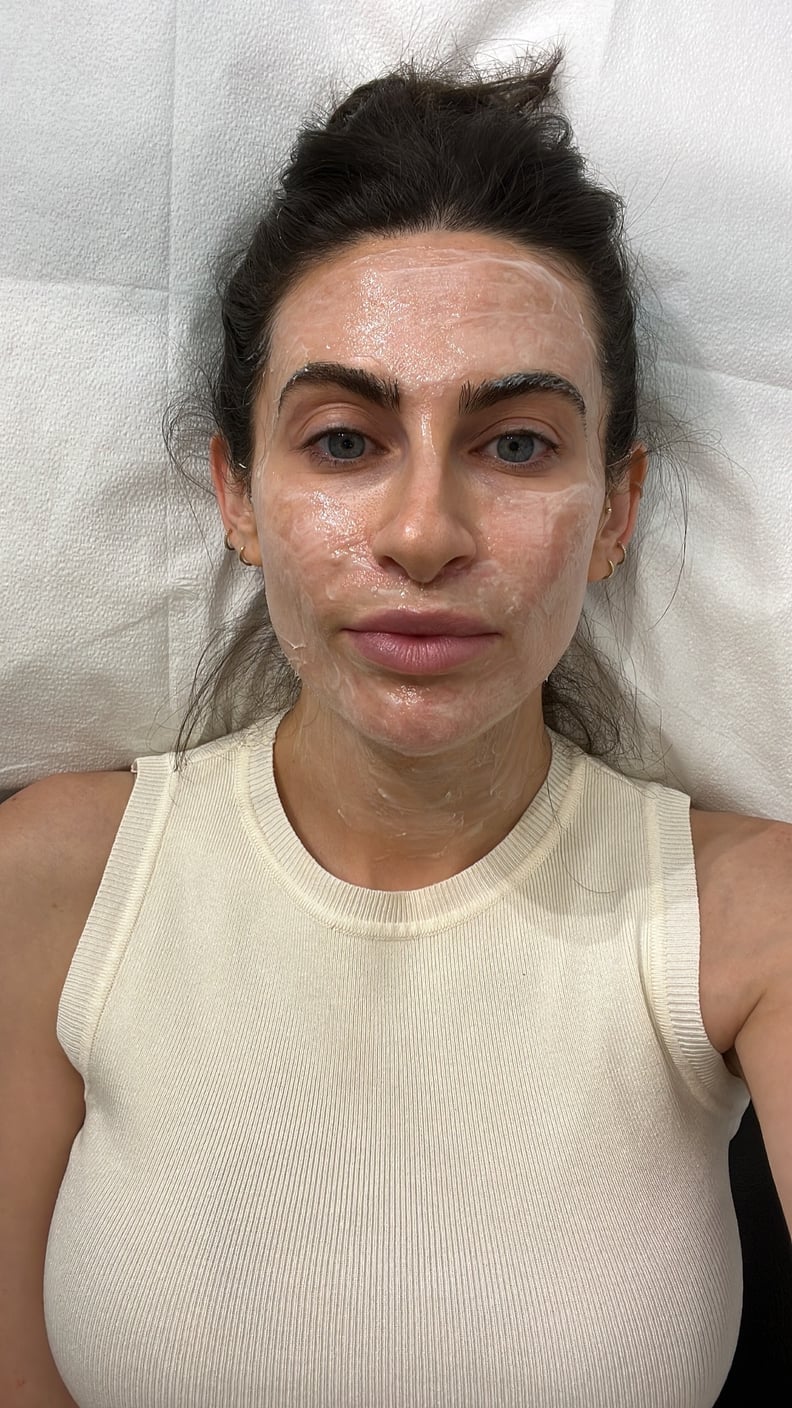 Though I am no stranger to painful procedures, and despite Dr. Lewis's assurance that it would be less painful than other treatments I've tried, I braced for the worst. Then, after sitting with the numbing cream for 30 minutes, I was ready for it to begin.
Manzi told me that she would be doing three passes with the device on my skin, which is typical for a patient my age. (Four passes, she explained, tend to be done on older patients depending on skin laxity and overall condition of the skin.)
She started on my neck first, moving the device around in what felt like vibrating motions to prevent me from feeling any pain or heat from the device. There was a slight discomfort when she moved the device above my lips — I could feel some of the heat pass through my skin to my overly sensitive teeth — but otherwise I experienced very minimal pain. She continued to my cheeks, my undereye area, and then directly under my brow bone to lift, which began to feel almost soothing and extremely satisfying. As she moved up to my forehead, I felt the heat again and just a tinge of discomfort. Before I knew it, it was over. "That's it?" I blurted out.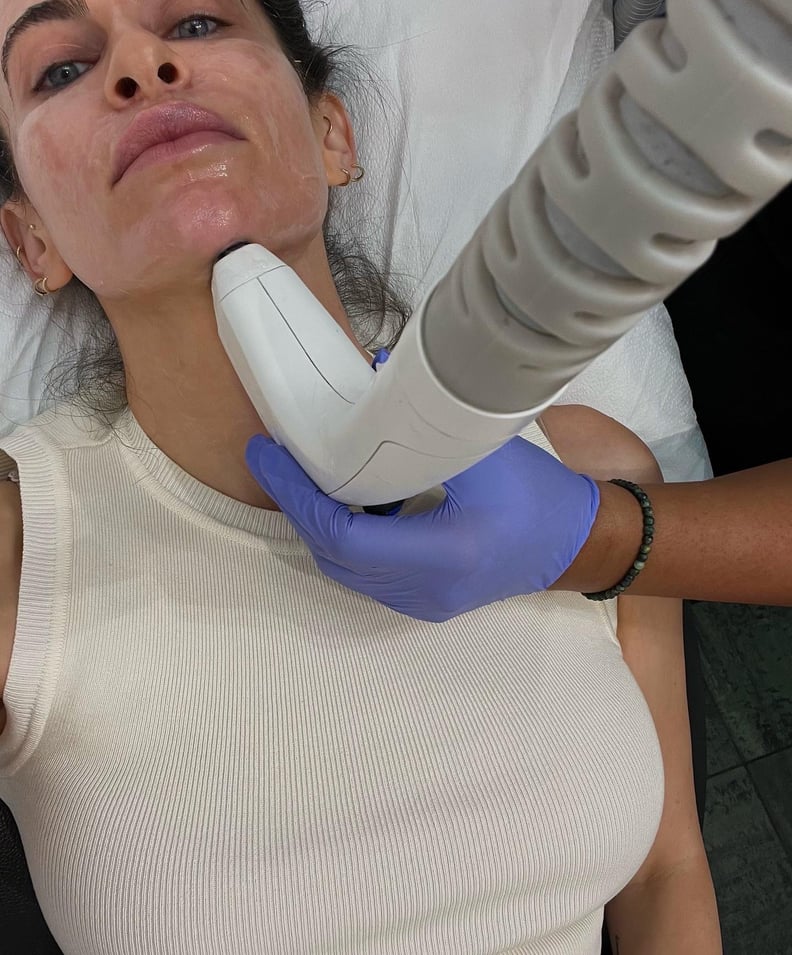 Now all I had to do was wait for the magic to happen.
In the minutes following the treatment, any redness subsided quickly and I saw immediate tightening of both my face and neck. My "tech neck" lines were almost completely gone and this annoying line by my nasolabial fold from sleeping on the left side of my face for too many years disappeared. Daniel Belkin, MD, FAAD, FACMS, dermatologist and dermatologic surgeon in New York City, explained that the immediate tightening is due to the contraction of collagen and is to be expected.
Otherwise, after I left the office, I carried on with the rest of my day — I even met my friend for lunch moments after walking out of Dr. Lewis' office.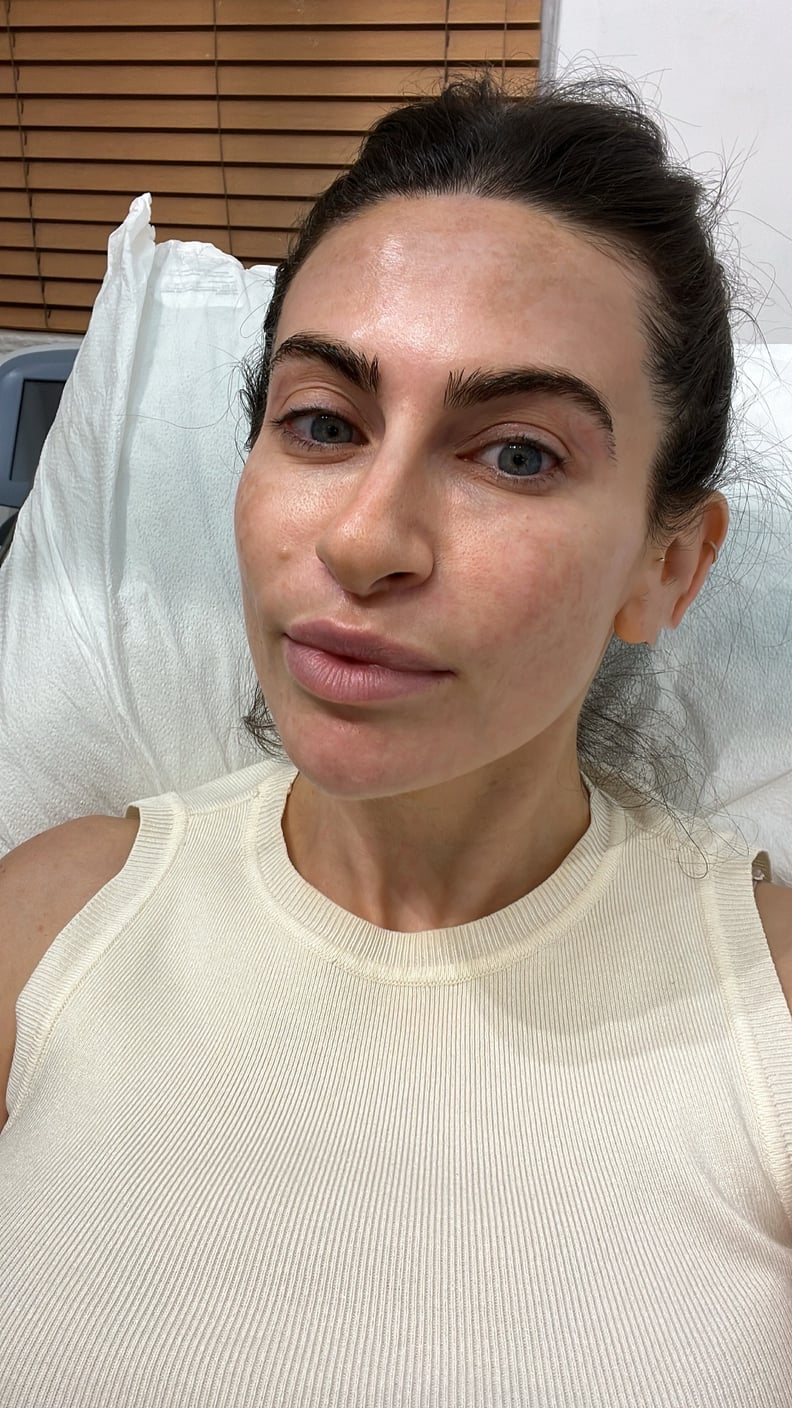 Sofwave Aftercare
Prior to going in for the treatment, I had one big skin concern that I thought I would have to address in post-care – that the device would trigger my melasma. Any heat from a device was fair game to trigger it. Dr. Lewis explains that there is a cooling mechanism in the handpiece that cools the surface of the skin that allows the heat energy to pass through the epidermis safely to prevent triggering melasma and hyperpigmentation. Thankfully, I was able to avoid the issue.
For after care, Dr. Lewis recommends continuing with your usual skin-care routine, but using good medical grade skin care, if possible, and continuing use of retinoids. After the treatment, I continued my extensive skin-care routine as usual and began waiting — the hardest part — for it to take full effect.
Is Sofwave Worth It?
Depending upon your location and provider, the average cost of Sofwave is $2,500 to $3,000 per session for the full face and neck area. It's definitely a splurge, but I cannot recommend the treatment enough. Though I can only speak from a preventative standpoint, with not too much to lift and tighten, if your budget allows, I think Sofwave is worth adding to your skin-firming regimen. I plan on continuing to treat my face with Sofwave yearly to maintain my results.
After Sofwave Treatment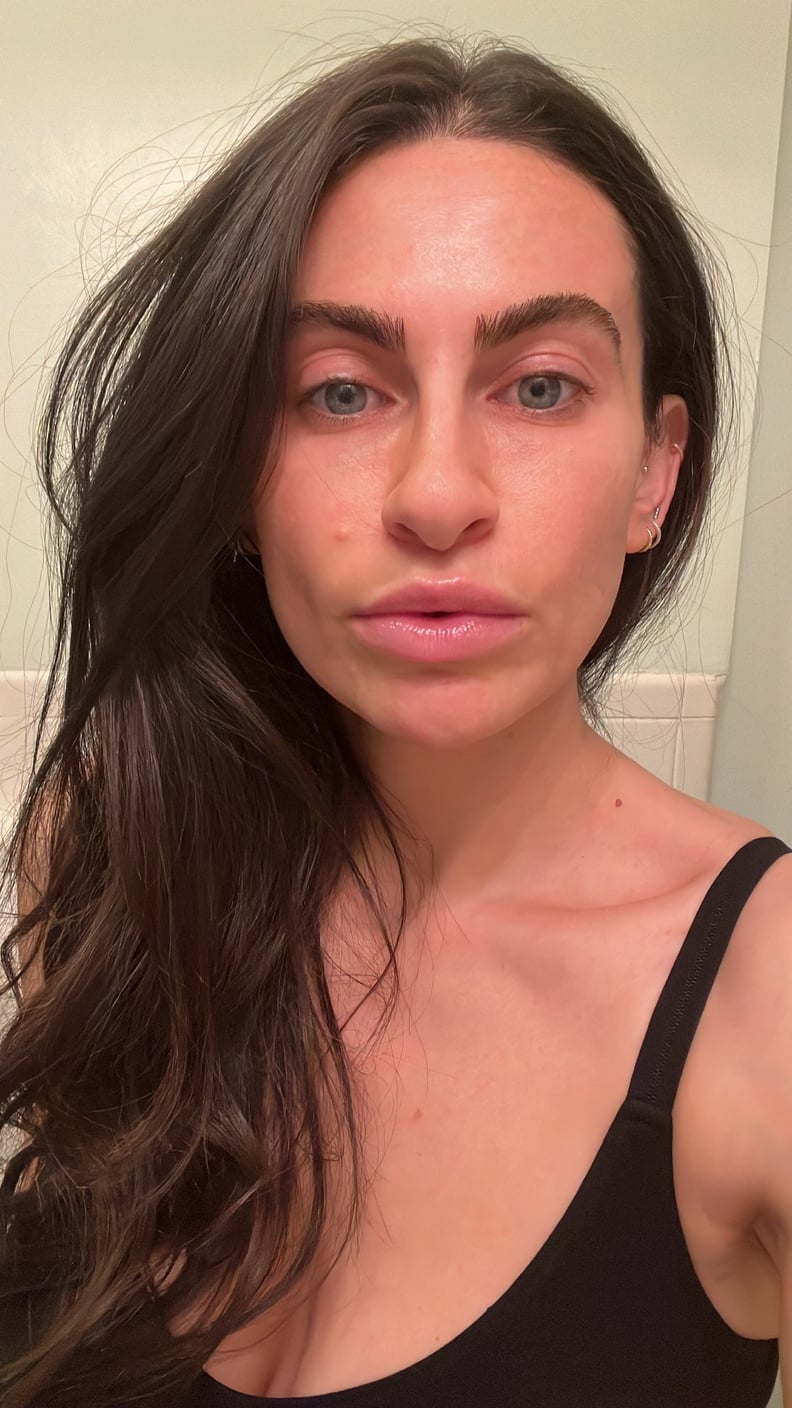 In the almost two weeks following the treatment, my skin continues to look and feel completely different. As the days pass, I see it slowly lifting and tightening, and according to Dr. Lewis, this is not unusual. "Immediate results can be seen as soon as one week following treatment, but the most visible improvement [is seen] after six to 12 weeks, depending on the areas being treated. It is important to note that patients may expect to see ongoing improvements three to six months after their treatment as the collagen regeneration continues."